We looked inside some of the tweets by @utdarena and here's what we found interesting.
Inside 100 Tweets
Time between tweets:
an hour
Tweets with photos
65 / 100
Tweets with videos
0 / 100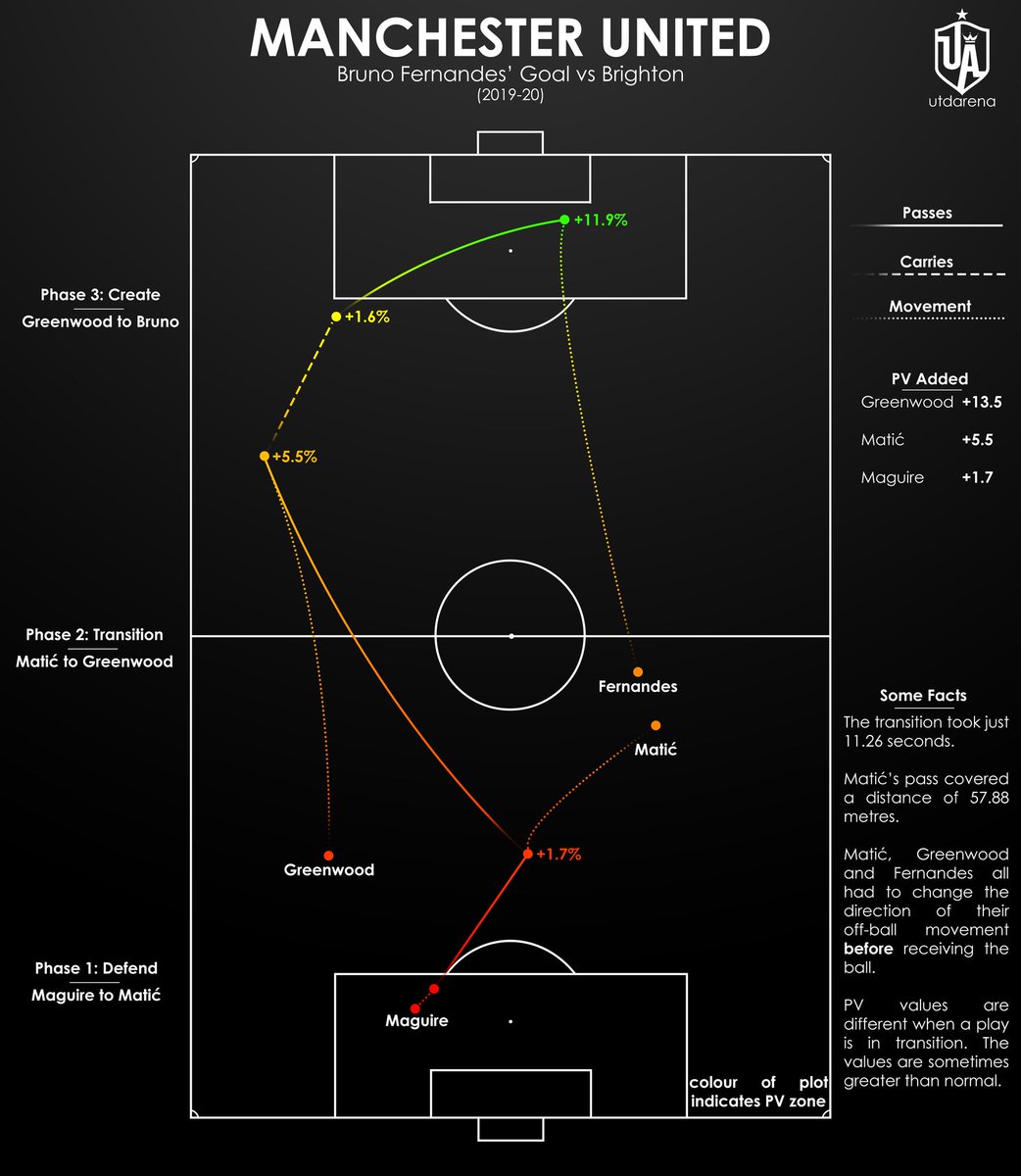 Bruno Fernandes' goal vs Brighton — the counter attack — was truly wonderful. I mapped out the transition below via events and phases, adding the PV added as well as some facts about the goal. In just 11.26 seconds we went from defending a long ball to scoring. https://t.co/Sxy0ZBOuE7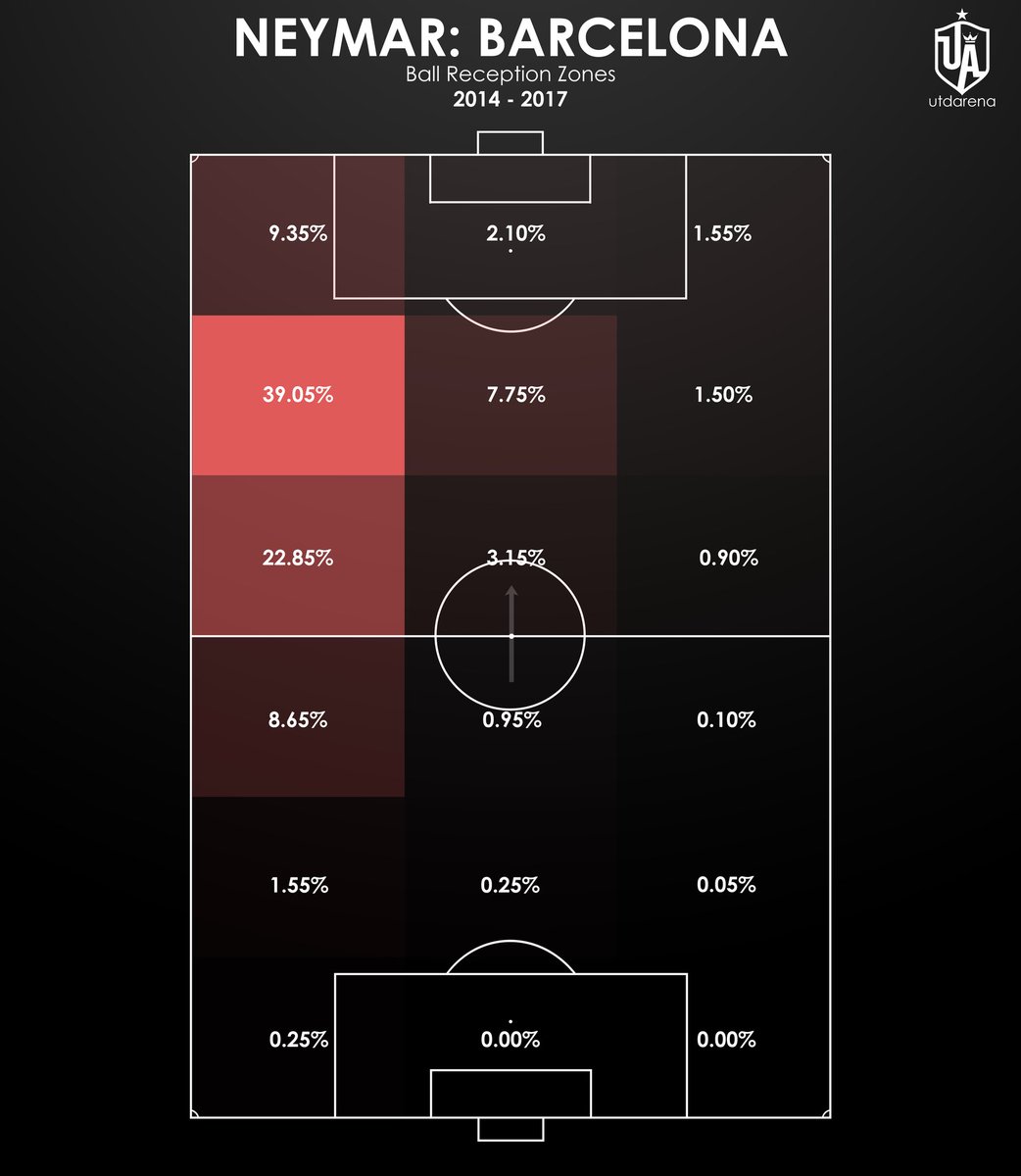 Neymar: Barcelona vs Paris Saint-Germain — Ball Reception Zones At Barça, Neymar was almost exclusively a left winger. In France, he has drifted further in than he did in Spain with solid zones in the central areas (almost 30%). Evolve. https://t.co/0c5tk4d4iW
N'Golo Kanté Interception Zones: 2015/16 After correcting errors this looks even more impressive. The share of possessions in the box and then all over midfield from his own defensive zones to the opposition zones is incredible. One of the most impactful defensive players. https://t.co/w5LAUlVSzd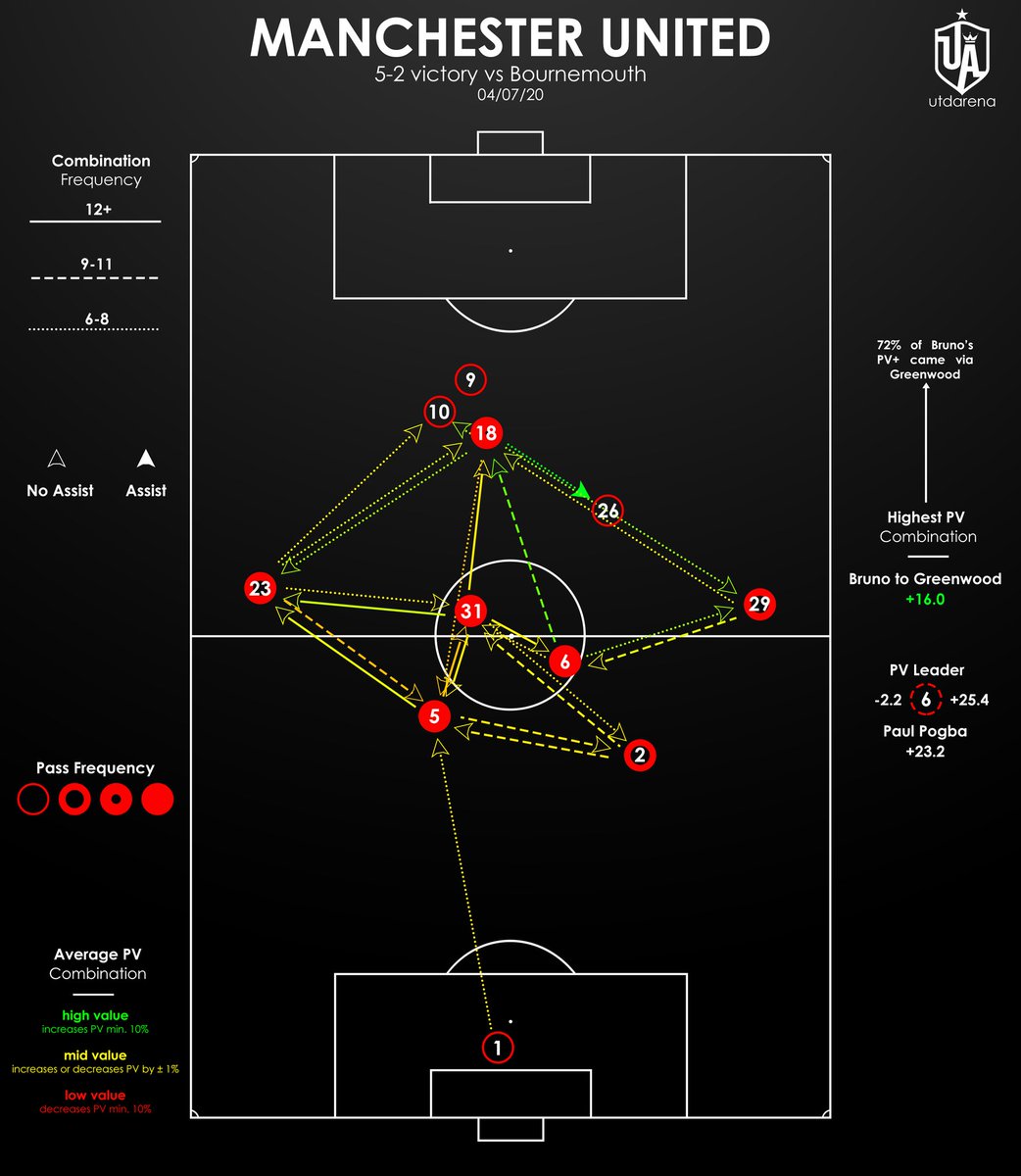 Manchester United 5-2 Bournemouth: 🖊️ Possession Value (PV) Pass Map 🖊️ Possession Value (PV) Map 🖊️ Aaron Wan-Bissaka Receptions https://t.co/RFWQ7DOEkS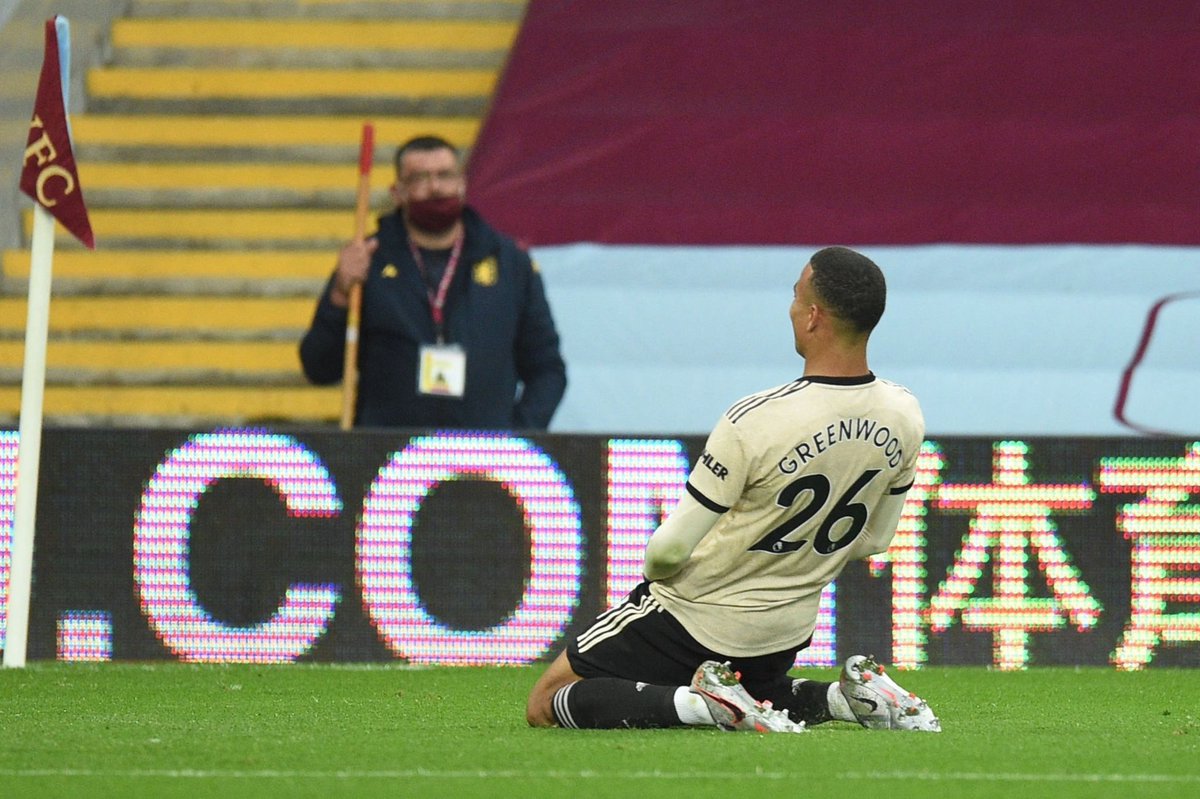 The Possession Value (PV) Maps will be out tomorrow. For the Bournemouth game I illustrated Aaron Wan-Bissaka's reception areas on the pitch. For today's game, I will illustrate Mason Greenwood's elite finishing performance this season. See you tomorrow! :) https://t.co/3MHVfNKMLv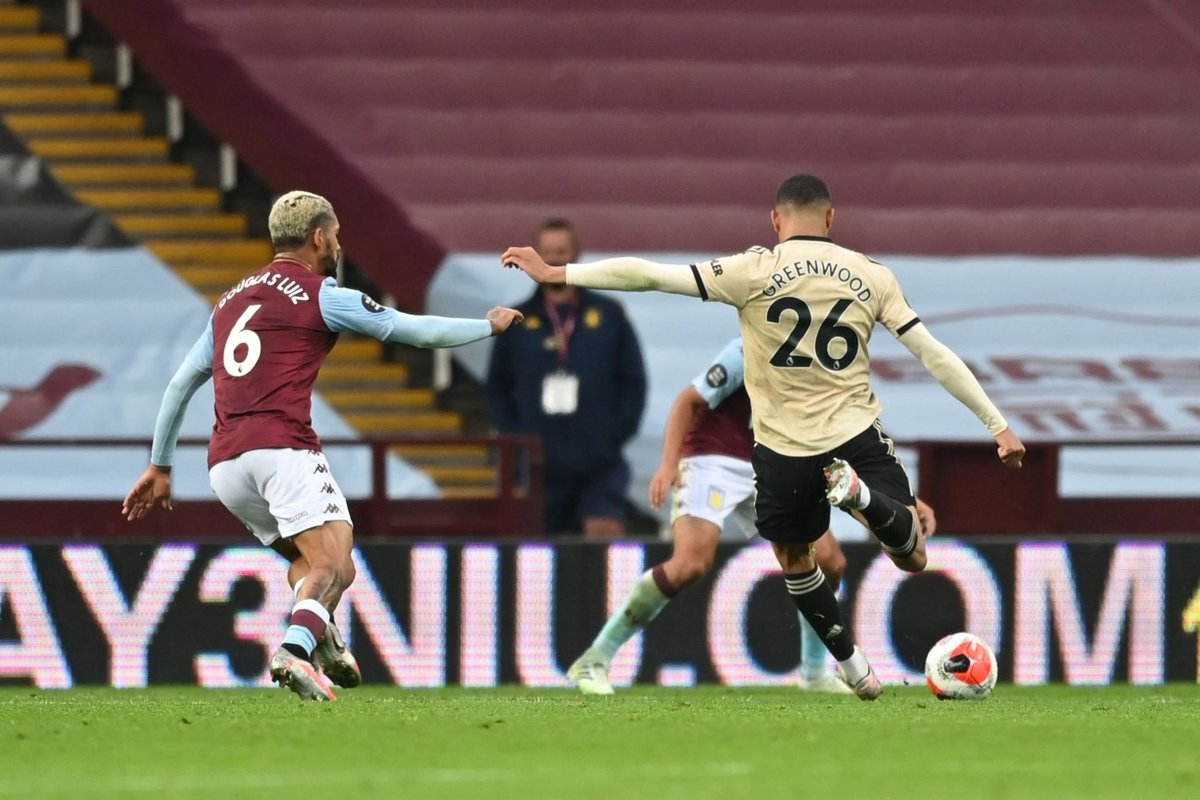 4 – This season, Mason Greenwood has taken 11 shots from outside the box in the Premier League with a total xG of 0.39. He has scored four times. https://t.co/gFvEbXlaA5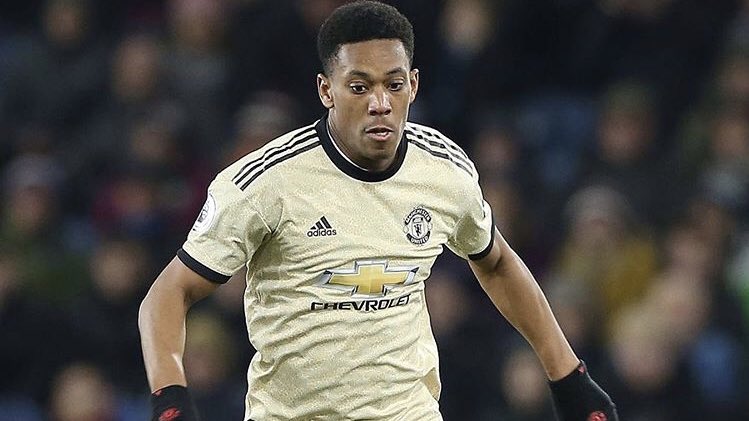 He didn't score but Martial had a good game overall. He was solid in attack but off the ball too both defensively (closing passing lanes, pressing and interceptions) and offensively (dummy runs, arriving into duels in good positions and good in-box runs). It was valuable. https://t.co/Pv3irCdjej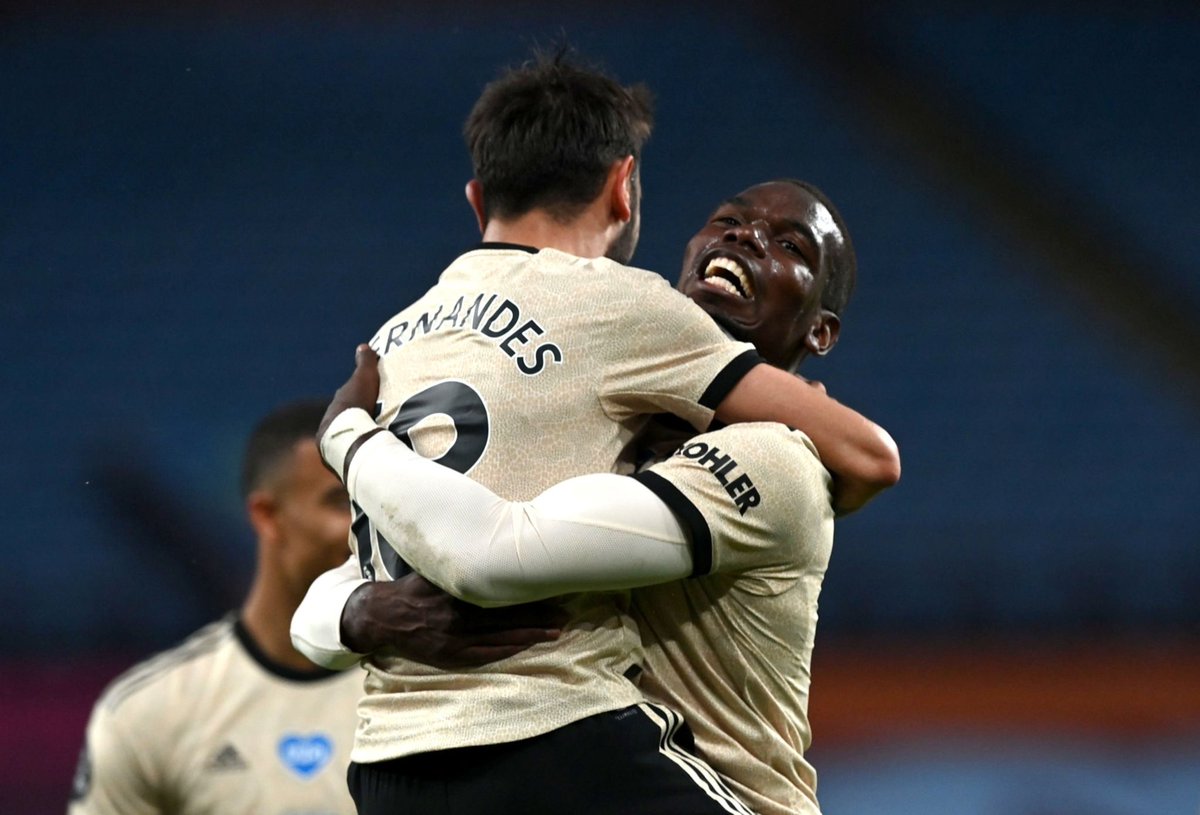 Paul Pogba vs Aston Villa: 90 touches 79 passes completed — 1st — 91% pass accuracy 11/11 long passes completed — 1st 8 recoveries — 1st 6 duels won — 2nd 3 chances created — joint-1st 1 goal scored A fantastic performance once more. https://t.co/WW6OvXQx1q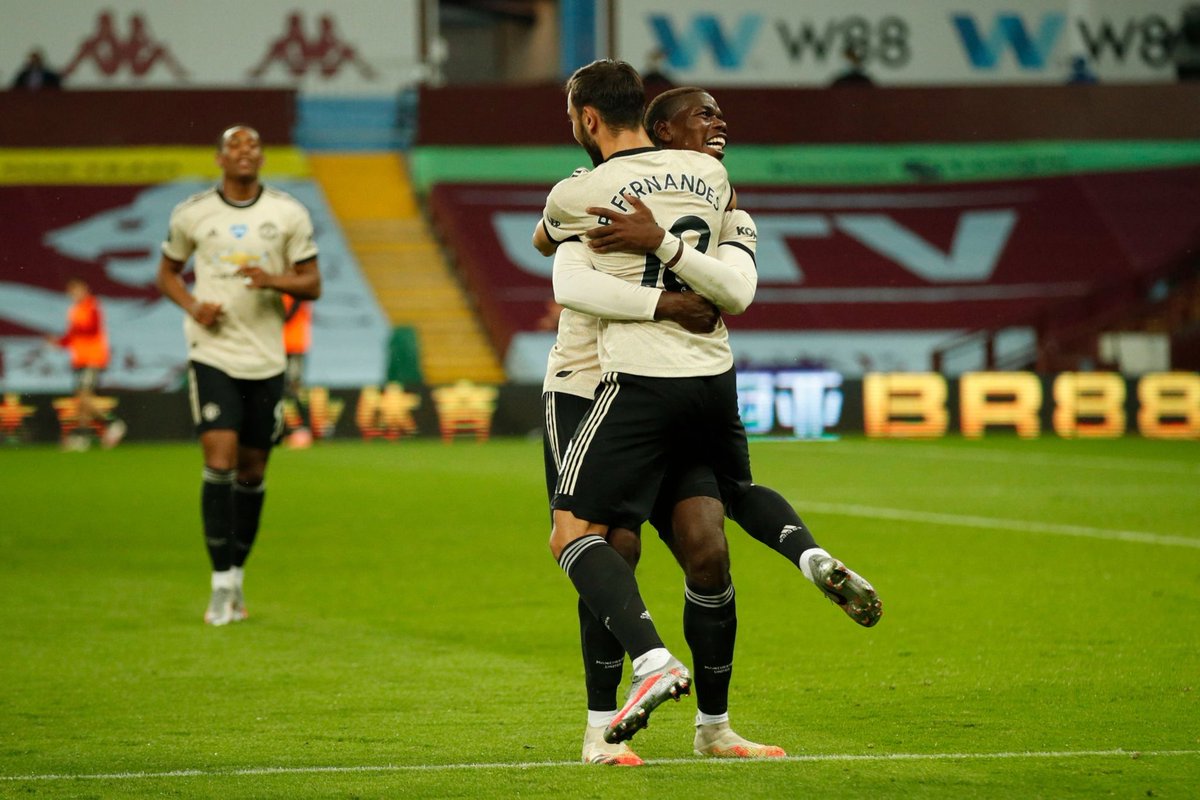 13 – Bruno Fernandes has 13 goal contributions in the Premier League this season despite playing just 837 minutes (9.3 90s). https://t.co/TtBtv5SLoQ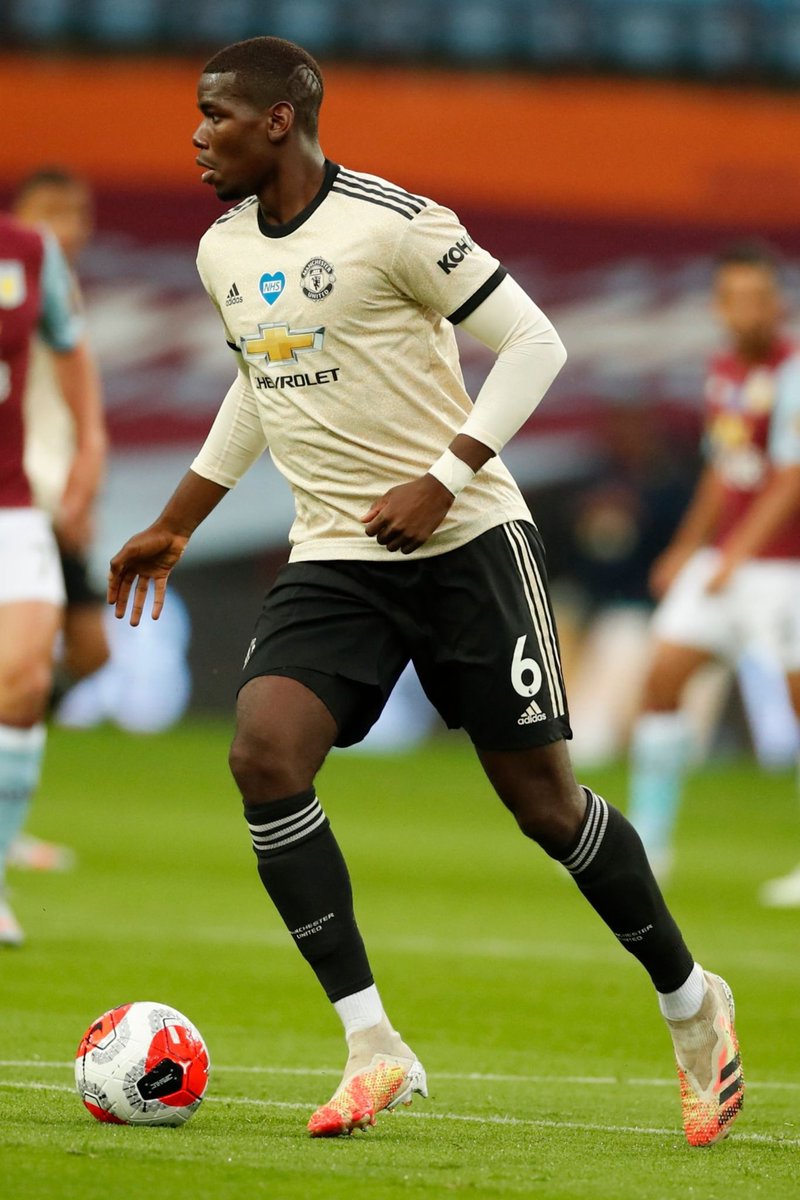 1 – In addition to playmaking from deep this season, Paul Pogba scores his first goal of the season. https://t.co/Z3VtaarOK8
Quoted @BakondiPeter
@utdarena When was the last time that 3 Utd players scored 20+ in a season? I have a good feeling about this.
The last time we had three players who all scored 20 goals each in all competitions in a single season was in 1965. Denis Law (39), David Herd (28) and John Connelly (20) made up the scorers. There are many seasons with a third player getting close to 20. https://t.co/TPZdCaL1Qk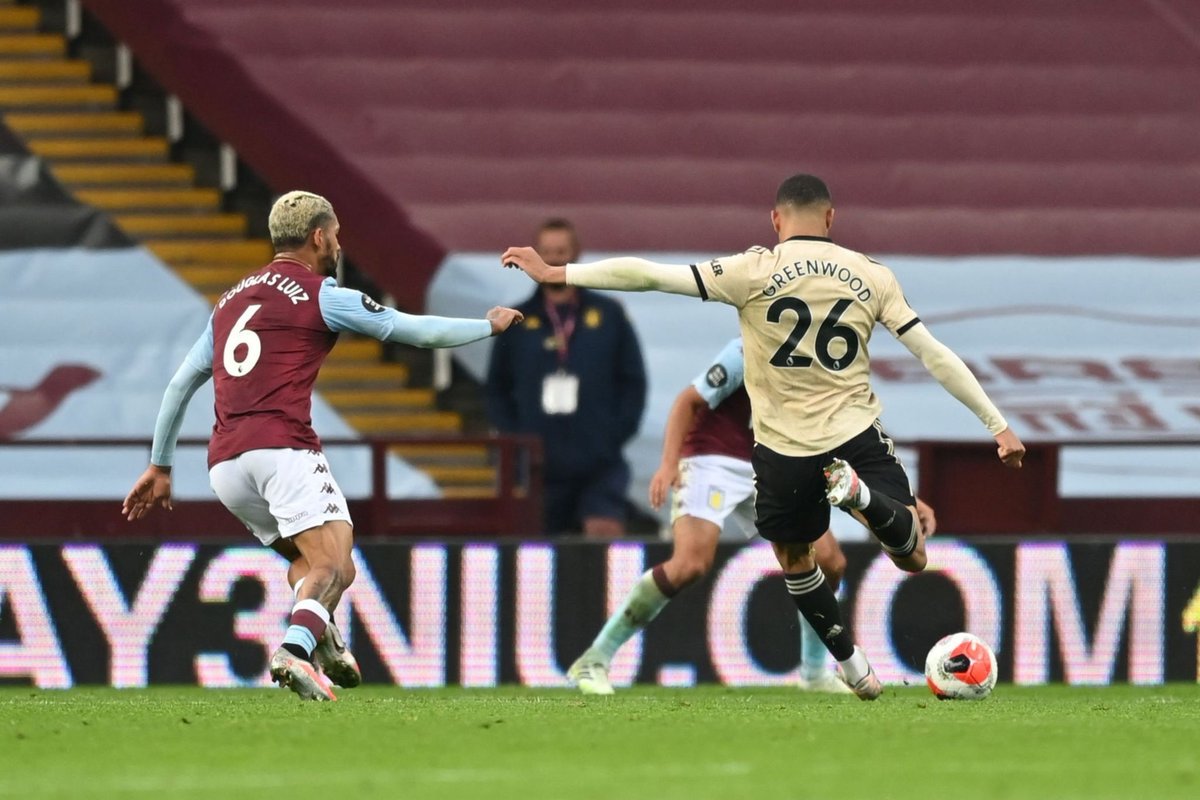 Greenwood was our best player in the first half. He reminded me of a young Ronaldo who would pick up the ball for us and just run at the opponent. He was rewarded with his 16th goal in all competitions this season. https://t.co/5xz5KCF4ny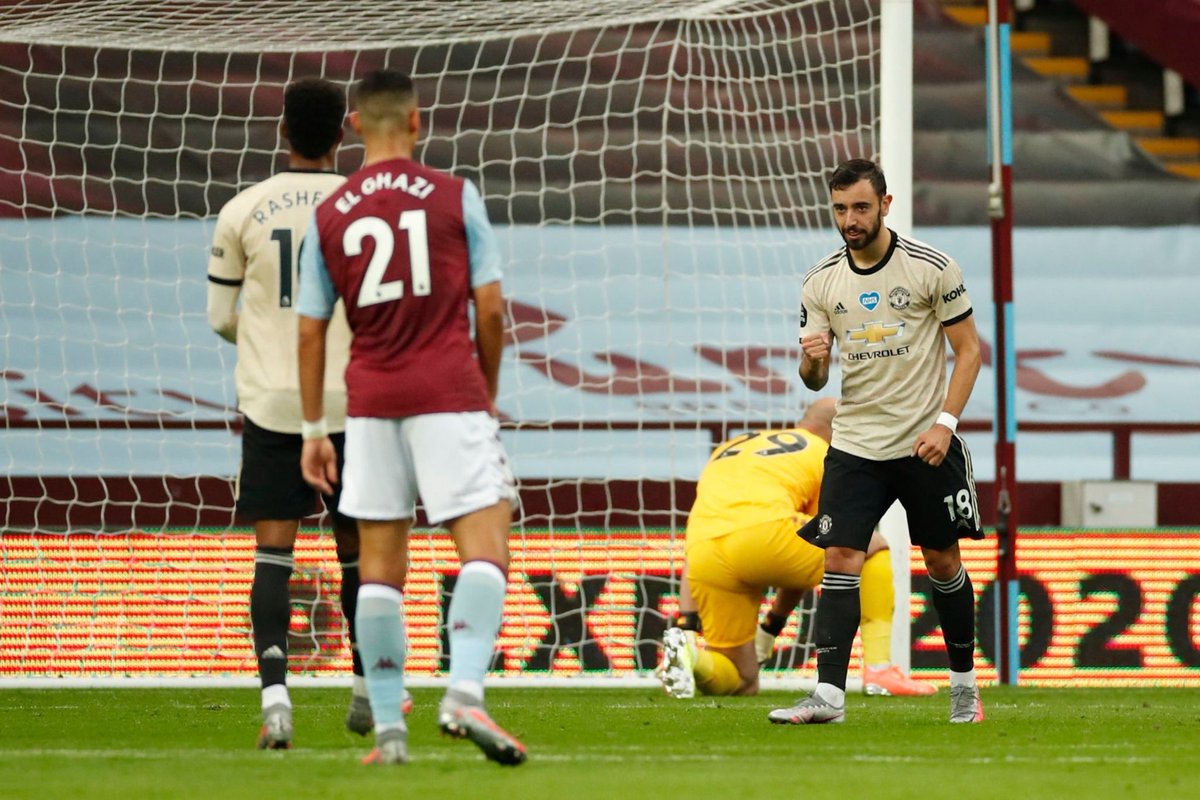 7 – Bruno Fernandes' penalty conversion moves him one goal away from Firmino, Lacazette, Alli and Pulisic. He first game was in February. https://t.co/afoEwRIyaV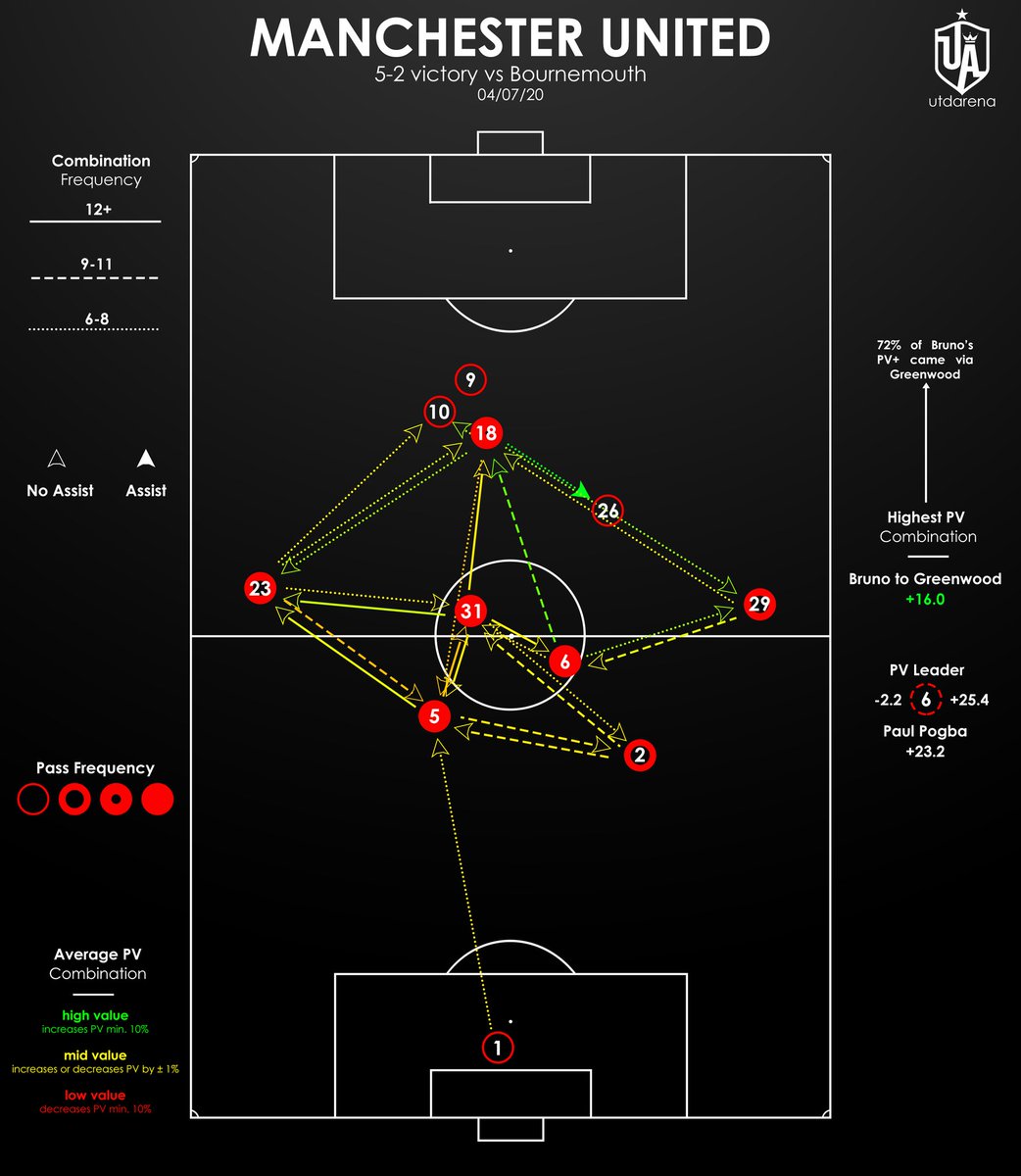 Manchester United 5-2 Bournemouth: 🖊️ Possession Value (PV) Pass Map 🖊️ Possession Value (PV) Map 🖊️ Aaron Wan-Bissaka Receptions https://t.co/RFWQ7DOEkS