We looked inside some of the tweets by @teamamash and here's what we found interesting.
Inside 100 Tweets
Time between tweets:
4 days
Tweets with photos
15 / 100
Tweets with videos
0 / 100
Rankings
(sorted by number of followers)
Quoted @ChadPergram
Pelosi spox: The Speaker recommends proceeding on a bipartisan basis involving the four corners of the House and Senate so that Congress can move expeditiously on an interim package and a CARES 2 package to put additional money in the hands of those who need it most
This is not at all how the legislative branch is supposed to work, in peace or in crisis. Congress must be a deliberative, representative body, not a body whose outcomes are dictated by four leaders without amendments, debates, or votes. https://t.co/wJWUcjeJ61
Congress and President Trump put taxpayers on the hook for billions of dollars to United Airlines in exchange for keeping their work force intact at least through September 30. Immediately after the bill was signed, United announced upcoming layoffs—to begin after September 30. https://t.co/lxVPnxDTht
Quoted @michelekelemen
Here's the 4 page text of the US/Taliban deal signed in Doha. Trump has described it as "a powerful path forward to end the war in Afghanistan and bring our troops home." https://t.co/gmFetTYIZb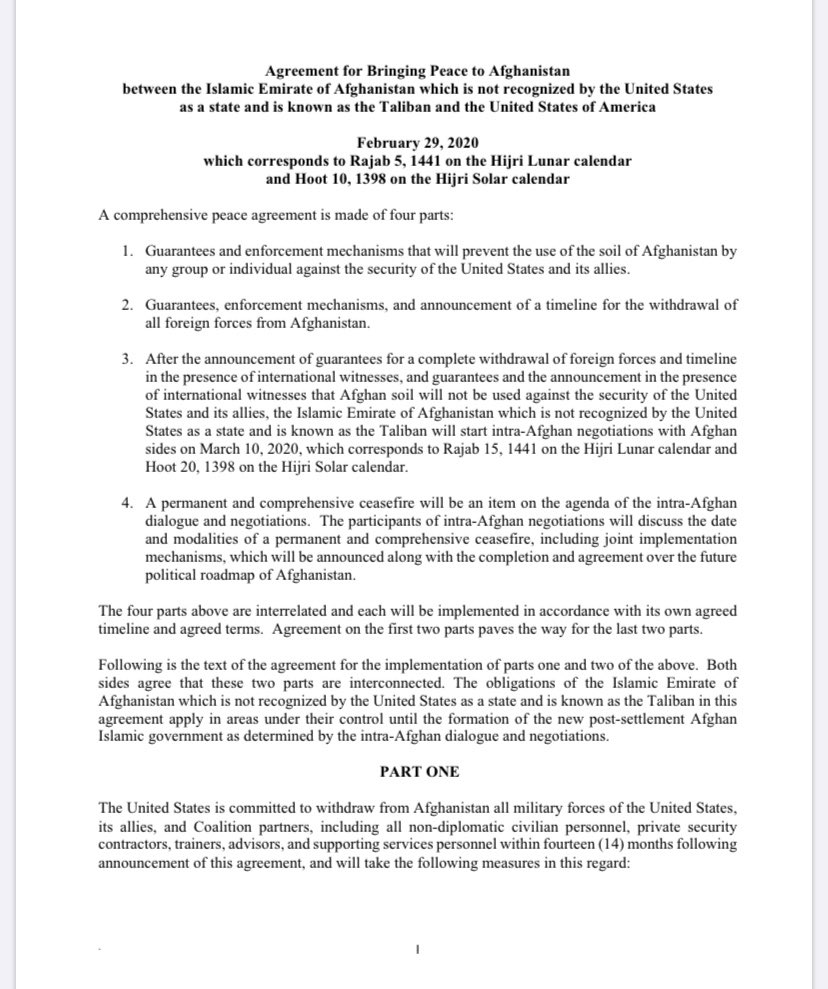 If Part One, A, is implemented, there will still be more troops in Afghanistan than under Obama, four years earlier. Part One, B, follows the familiar Bush/Obama pattern of laying out impossible goals: No full withdrawal if even one individual in Afghanistan threatens the U.S. https://t.co/SNly1heOuS
Please consider making a donation to my campaign—even a small one. Last quarter, we raised more than all 10 challengers combined and 200 times more small-dollar donations than the top challenger. They will fight back, so I'll need your help more than ever. https://t.co/WYdnUwxJhY
Quoted @thehill
"The difference between my socialism and Trump's socialism is I believe the government should help working families, not billionaires." https://t.co/uWlr9q2Dwf
The difference between my classical liberalism and Bernie's and Trump's socialism is I believe the government should secure our rights, not secure the power of central planners who violate our rights. https://t.co/ZvZGFJ28fn
Quoted @HotlineJosh
Fun little $$ nugget: Justin Amash easily lapped the field of Republicans and Dems in fundraising as an independent ($595K). Best fundraising quarter in his career since LEAVING the Republican party. Sign of the times.
Thanks to everyone who has donated to my campaign. *We raised more than all other candidates combined.* But I'm especially grateful to the people of my district, who have been so supportive and kind. Humbled and honored to represent you as an independent. Thank you for believing. https://t.co/SaeHCdARdh
Quoted @realDonaldTrump
Nancy Pelosi wants Congress to take away authority Presidents use to stand up to other countries and defend AMERICANS. Stand with your Commander in Chiefs!
Americans want Congress to reclaim authority presidents have usurped to keep us in endless wars and enter new conflicts without approval. Stand with our Constitution. https://t.co/SpX1VVC0fI
Quoted @nytopinion
The Brazilian government's filing of criminal charges against the American journalist Glenn Greenwald is an increasingly familiar case of shooting the messenger and ignoring the message https://t.co/rVb39bxsVK
The freedom of the press is a bulwark against tyranny. No journalist should face criminal prosecution simply for exposing the apparent corruption of those in power. https://t.co/tDmHXsj3pD