We looked inside some of the tweets by @seanmdav and here's what we found interesting.
Inside 100 Tweets
Time between tweets:
7 minutes
Tweets with photos
11 / 100
Tweets with videos
5 / 100
Quoted @greg_price11
Russiagate is going to go down as the biggest media catastrophe of all time. Entire newsrooms were dedicated to the story being true, people won Pulitzer Prizes for it, and, not only were they dead wrong, they more than likely fell for a Russian disinformation campaign.
Perhaps the Pulitzer committee should take a look back at the ones who got it right - while absorbing the mirth and mockery of the ones who got it wrong. That would be cool. @MZHemingway @seanmdav et al. https://t.co/6AwZ924129
Robin Pogrebin fell for the rape hoax perpetrated against Brett Kavanaugh—she wrote an entire book trying to legitimize it—so I'm not at all surprised she just got taken in by Babylon Bee satire about Ruth Bader Ginsburg. https://t.co/eCQLEzSgeR
Bill Barnett was my agent. He was on my WFO squad. We were in Newark together. He is a solid agent. One of the case agents in the Chuckie Taylor case and many other important cases. I give him my highest backing. This was all McCabe https://t.co/vPcGJBbiKQ
"This election was always going to be about culture. Treat the election as a referendum on cultural issues and lean in, Mr. President." Good read by @MrMaitra https://t.co/kgviXaGfvl
Quoted @ddale8
Trump is reading out a headline from The Federalist about the Russia investigation.
And if you were journalists you'd be reporting on it... but who are we kidding??? https://t.co/DTryGJTIkn
Quoted @DanaHoule
I would love to know which adoption agency Amy Coney Barrett & her husband used to adopt the two children they brought here from Haiti.
This is who Democrats are. They're already angling to destroy a Christian woman for adopting children. https://t.co/4CtdGXD4pb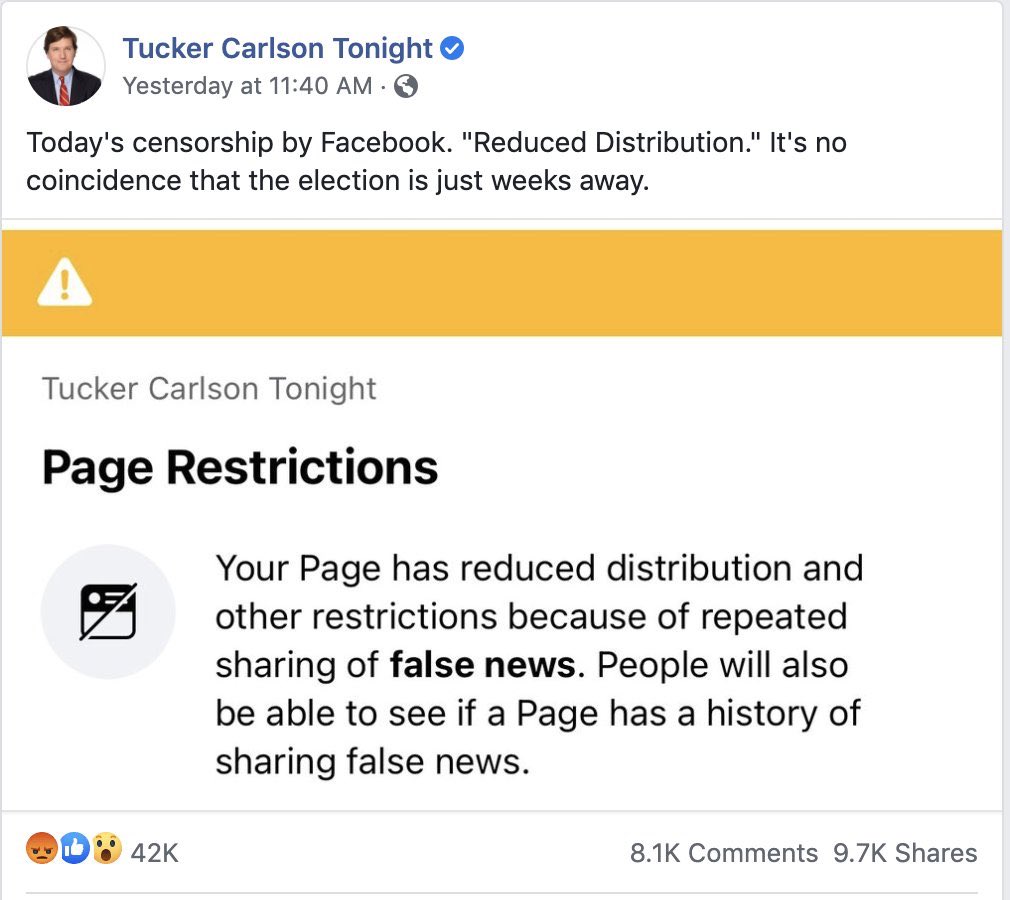 Facebook censoring one of the largest voices in cable news is totally unacceptable. This is publisher behavior, not neutral platform behavior. Time to revisit #Section230 https://t.co/2PMMNwiWWF
This is the tip of the iceberg. There will be coordinated stealing planned/managed by the Democratic Party, and then there will also be random crimes by bitter, deranged liberals who have access to the ballots. Vote. in. person. https://t.co/ZKUPkgS5wx
"Three career supervisors in the D.C. U.S. attorney's office have disputed the sworn congressional testimony given by a former prosecutor on Mueller's team [Zelinsky], telling DOJ officials they believe he mischaracterized communications with them" 🚨https://t.co/aX7tLBhuWT