We looked inside some of the tweets by @psychopy and here's what we found interesting.
Inside 100 Tweets
Time between tweets:
a day
Tweets with photos
11 / 100
Tweets with videos
0 / 100
@chrisgorgo @psychopy I have had really good experiences with Pavlovia. Happy to share my knowledge anytime (including IRB stuff)!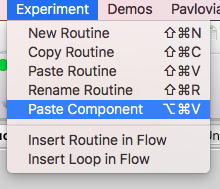 If you are using the same component repeatedly in @psychopy you can copy and paste that component using ctrl➡️copy then Experiment menu➡️paste component. #PsychoPyTips [I am 100% guilty of creating a new fixation point for each routine in the past] https://t.co/Nm9u2tR8Aj
@BAs_Who_Code, if you're looking for an open source platform to create and host your experiments on, then @psychopy is the place to go. And to get you started, I've built the most widely used schedules of reinforcement here: https://t.co/j7Xm18S7CF
So impressed that my PhD student, @Sue_aPhdStudent, has set up an online version of the latent inhibition task described by Granger et al. (2016) using @psychopy. Jolly happy to see that this task (which uses a RT measure) worked on line too! https://t.co/OYBfdVYtkb
Test your visuospatial memory and contribute to our research on how our memory deals with retention of visually complex stimuli. The task is available on @psychopy's Pavlovia in English, Chinese, German, Spanish, Portuguese, and Hungarian. https://t.co/ErVmjHZnDQ
Great post on the forum about inserting custom JS (e.g. jQuery forms) in PsychoPy/PsychoJS Provided with detailed instructions and a template study on Pavlovia that you can fork and build from! I love the way our community helps itself! :-) https://t.co/6lcMAmJcvi