We looked inside some of the tweets by @pmdfoster and here's what we found interesting.
Inside 100 Tweets
Time between tweets:
27 minutes
Tweets with photos
5 / 100
Tweets with videos
0 / 100
And all that shouldn't deflect (but has) from near uniform fury of industry today at implication by @michaelgove that they just need to try harder. Real anger about basic lack of clarity on duty deferrals applications and simplified customs procedure./6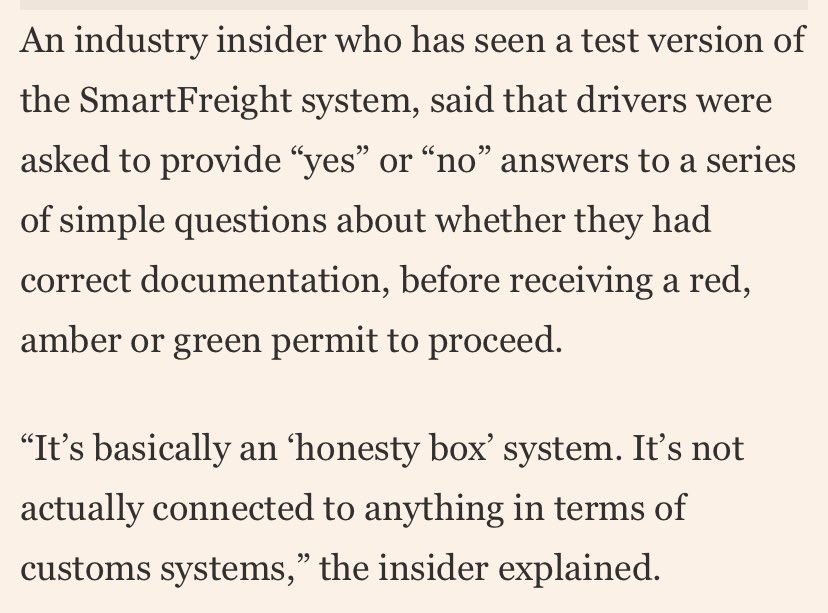 The SmartFreight isn't that "smart" - the only data you input, I'm told, is your vehicle reg number. Otherwise it's yes/no answers. /2 https://t.co/DMuVZojVW1
Fandango over need for "permit" to drive to Kent after brexit via @FT but as one insider tells me, it's an empty vessel of a system.../1 https://t.co/UlqZENXPmm
A third time @michaelgove is asked (by @justinmadders) how many customs agents have been trained...and a third time he can't provide a number. Repeats that £80m in grants is not drawn down (See threads passim on why industry can't magic 50k up overnight)
So @StephenFarryMP asks @michaelgove when he'll publish Border Operating Model for GB-NI trade - having promised it in July - but doesn't provide a date.
Again @michaelgove is asked how many customs agents have been trained ahead of January 1 2021...and for a second time declines to answer. Just says the £80m put aside for grants etc hasn't been spent yet. FWIW my enquires suggest low thousands v industry estimate of 50k needed.
@pmdfoster It's worth listening to his evidence, which is completely incoherent. At 11:03:16 he explains that the wording of Article 10 NI Prot is clear & the Court will find it means what it says but that it really can't mean that so we have to litigate it. Really, it is that bad!
@PeteWishart @michaelgove .@hilarybennmp now on his feet...knows his stuff as chair of EU exit Cmme...asks if GVMS & SmartFrieght are ready, when did that happen? Gove flustered momentarily; repeats they're being shared with business...so, er, not operational.
.@PeteWishart goes tonto at @michaelgove against "rogue state Britain" etc...and chickens coming home to roost...Mr Gove laughs, and "doesn't know where to start"...but then says UK will be prioritising day-old chicks and shellfish..then asks what currency indy Scotland will use?
Now @RachelReevesMP replies - and paints a rather different picture to the ebullient Mr Gove. Says the @RHARichardB and others are "tearing their hair out" at lack of government information and assistance. Urges govt to get a trade deal./
Quoted @MichaelAodhan
Absolutely ridiculous statement. The obligations are clear in the WA & NIP. Biz can not build plans based on something that could be challenged in court. We need a comprehensive FTA & good decisions from the joint committee not this laissez-faire attitude to NI biz & jobs! https://t.co/xOpwQrF9Ue
Business abhors a legal vacuum... https://t.co/mPhSDVJiFn
@michaelgove Still "plenty of time to prepare" he adds. And Border Force recruiting 1,000 extra staff, with 100s more on the way. And a new SmartFreight web portal, and an Check Change GO info campaign...you can see it here. Very inspiring. https://t.co/r6ZcuXgzcu
A bushy-tailed @michaelgove now giving statement to Parliament on the #brexit border, "we need businesses to prepare" to make the most of the "opportunities" of leaving the EU single market. https://t.co/TBNivY2n4T