We looked inside some of the tweets by @mesanti64 and here's what we found interesting.
Inside 100 Tweets
Time between tweets:
2 hours
Tweets with photos
30 / 100
Tweets with videos
5 / 100
Troppi errori in 11, gol preso in 3 contro 1 da punizione per noi è grave. Molto bene in 10, pareggio con l'uomo in meno, chiusa addirittura in avanti. E un mostro con il numero 7, tra gol, rientri difensivi e stacco in cielo. #jvtblive
Io ho sempre utilizzato ironia in ogni mio tweet. Non ho mai offeso o insultato nessuno, nemmeno chi insulta me. Il calcio è un gioco, chi ne fa una guerra o una questione personale è meglio che segua altri sport. #Pistocchi #PistocchiNazista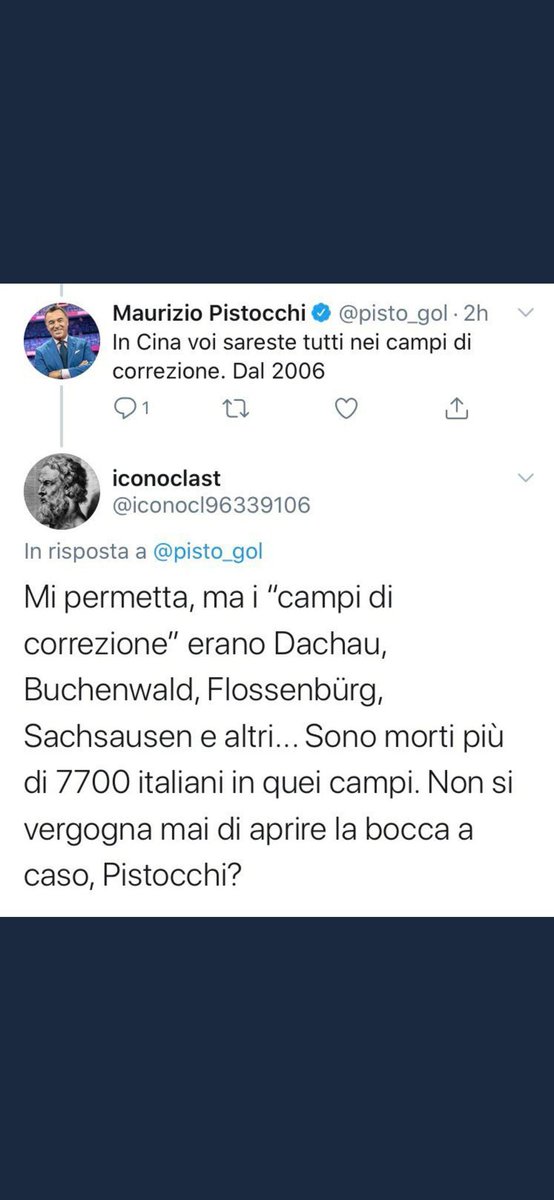 Buongiorno @Twitter , vorrei segnalarvi l'account @pisto_gol per comportamento violento, irrispettoso, incitazione all'odio razziale, disprezzo e irriverenza di fatti accaduti nella storia passata orribili e condannabili. Allego sreenshot in quanto mi ha bloccato. Grazie https://t.co/2RRxp6F5yD
#lineaverde e #melaverde sono solo dei contenitori pubblicitari spacciati per programmi divulgativi sull'agricoltura. Gli andrebbe imposto di mettere in sovraimpressione la dicitura fissa "Messaggio promozionale" o "Informazione pubblicitaria"
È ora di segnalare in massa #Pistocchi per incitamento all'odio. Anche chi è bloccato come me può farlo dal suo profilo. @ODG_CNOG mi aspetto una presa di posizione esemplare questa volta, non ci sono più scusanti.