We looked inside some of the tweets by @mehreenzahra and here's what we found interesting.
Inside 100 Tweets
Time between tweets:
2 hours
Tweets with photos
5 / 100
Tweets with videos
16 / 100
Rankings
(sorted by number of followers)
In Pakistan, the bizarre arrest of Mir Shakil-ur Rahman shows how media freedom is being squeezed—Govt has cut off ads payments to media houses that don't toe the line, newspapers face distribution disruption, TV channels are taken off-air By @beenasarwar https://t.co/LIGaKb1WRf
Quoted @FaheemYounus
Myth: Coronavirus is airborne Fact: No. It's droplet Measles IS airborne. It's R0 is 12-18. COVID's R0 is 2-3 If it was measles like airborne, infections would've been in billions by now (Please don't post links to argue; google medicine doesn't count:) Let's be practical
Airborne is a purist, "what if" position taken by some academics Droplet is a practical, "what is" position taken by most clinicians and the WHO When people aren't even wearing facemasks, purist positions add min. value and max. confusion I rest my case. Believe what you like https://t.co/c9ryLjSae6
Trump called Harvard's decision to cancel in-person classes this coming academic year 'ridiculous,' calling it 'an easy way out' https://t.co/872yDObRjV
'We're very much going to put pressure on governors and everybody else to open the schools,' President Trump said, adding that some people wanted to keep schools closed for political reasons https://t.co/ywbsTs9OgL https://t.co/KUSJrhg7M6
Alhamdollilah LHC cancels PEMRA illegal order to suspend @24NewsHD 's license . We will be back on air iA !
Muhammad Anwar, caretaker of #Islamabad's Rama Mandir compound, said the area was now a "heritage site" and worship by #Hindus was not allowed. "Sometimes people insist [they want] to offer prayers here, but we have to stop them," Anwar said. #Pakistan https://t.co/bEbQZlizlO
Nestled in the foothills of the Himalayas in #Pakistan's #Islamabad is a 16th century temple built as an ode to Ram who Hindus believe lived in here during 14 long years of exile. But guess what? Since 1947, Hindus aren't allowed to worship at the temple https://t.co/bEbQZlizlO
For centuries, Hindus came to worship at the Rama Mandir Temple in #Islamabad, built as a shrine to god Ram who Hindus believe lived in the area during 14 years of exile. But since 1947, #Hindus are no longer allowed to worship at the temple. #Pakistan https://t.co/bEbQZlizlO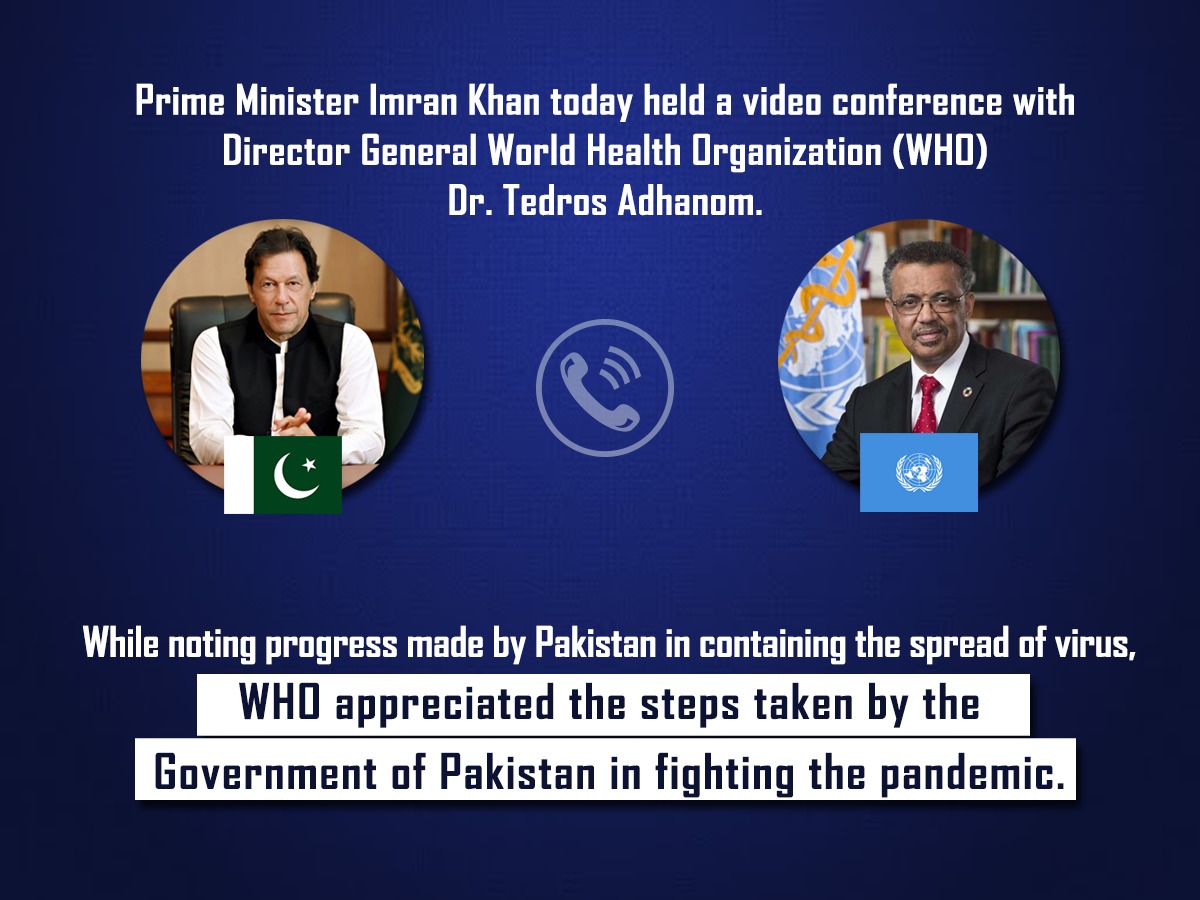 PM @ImranKhanPTI today held a video conference with Director General World Health Organization (@WHO) @DrTedros While noting progress made by Pakistan in containing the spread of virus, WHO appreciated the steps taken by the Government of Pakistan in fighting #COVIDー19 https://t.co/VzWsdJMSqd
Quoted @PakPMO
PM @ImranKhanPTI held a video conference with Director General World Health Organization (@WHO) @DrTedros today. While noting progress made by Pakistan in containing the spread of virus, WHO appreciated the steps taken by the Government of Pakistan in fighting the pandemic. https://t.co/tCESTqm1yQ
Thank you for a productive call this morning, 🇵🇰 Prime Minister @ImranKhanPTI, about the #COVID19 situation in #Pakistan & globally. @WHO is glad to see that cases in 🇵🇰 have been in decline since early June & we appreciate your strong surveillance efforts to fight the pandemic. https://t.co/0EO7ZTludv
Why am I nervous to tweet the editor's letter for our series about not wanting kids? Probably because I know people, esp women, esp mothers, love to yell at me when I express this preference. Why? I'm not mad at you... https://t.co/Myx627bodU
Authorities in a city in #China issue a warning after a hospital reported a case of suspected bubonic plague. The bubonic plague, known as the "Black Death" in the Middle Ages, is a highly infectious and often fatal disease that is spread mostly by rodents https://t.co/KBFuHZ0Z6O