We looked inside some of the tweets by @maximillijamaal and here's what we found interesting.
Inside 100 Tweets
Time between tweets:
15 hours
Tweets with photos
10 / 100
Tweets with videos
5 / 100
Across the country, prosecutors are threatening protesters with years in prison. It's important that we #FREETIANNA and all those facing outrageous charges filed by prosecutors who are just as unaccountable as police. https://t.co/QaeR8uPdtV
@sheabutterfemme: "The goal is to get Black people out of jails. Getting police in jails wastes momentum towards closing jails. It perpetuates the narrative that jail is where bad people belong. The more we invest in policing, the more it hurts Black people long term."
The conservative gender politics of cisgender black liberation are coming to an end. They must. In Angela Davis's words: https://t.co/KxXkrfSdmO
BREAKING: WE WON! Idaho must allow transgender people born in the state to correct their birth certificates. Anti-trans #HB509 passed earlier this year violates the court victory we won in 2018.
#BREAKING: WE WON (AGAIN)! A federal court just ruled that trans students must have access to bathrooms that match their gender. Our client Drew Adams has been fighting for this right against his school in Florida since 2017. The 11th Circuit ruled in his favor.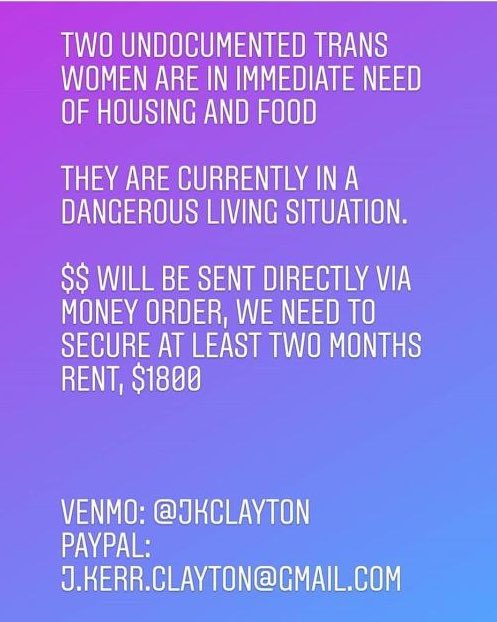 UNDOCUMENTED TRANS WOMEN IN NEED OF HOUSING AND FOOD UNDOCUMENTED TRANS WOMEN IN NEED OF HOUSING UNDOCUMENTED TRANS WOMEN IN NEED OF HOUSING UNDOCUMENTED TRANS WOMEN IN NEED OF HOUSING https://t.co/wu6TQQoqd1
please don't say "protect black women" if you're not interested in helping dismantle the systems that brutalize and extract life from us (capitalism, patriarchy, white supremacy). check out this collection of essays! https://t.co/9MkCGZ97Kx
Earlier this year, I wrote about the housing crisis, which is becoming a catastrophe. Over 40 million Americans are on the verge of eviction now...Black women renters are twice as likely as white renters to be evicted. https://t.co/NdPYpcgs54
guys i've made another gfm for an apartment. we have found options for apartments that don't have monthly income restrictions and are willing to accept us. please boost and donate if you can 🥺 https://t.co/SFQxNkIdqP