We looked inside some of the tweets by @kathleenhenehan and here's what we found interesting.
Inside 100 Tweets
Time between tweets:
2 days
Tweets with photos
20 / 100
Tweets with videos
0 / 100

Moreover, it's not easy for adult learners to build up individual educational credits into full-level qualifications over time. So allowing them to accumulate credits and/or finance their study on a modular basis (which the below hints at, for HE at least) is welcome news. 8/9 https://t.co/9Y4lnf0J5Y
Full @resfoundation analysis of the Chancellor's Winter Economy Plan (with thanks to the team for sleep loss overnight). The short version: the policy does not match the rhetoric on protecting "viable jobs". A thread... https://t.co/sk8JKRuP72
Ahead of @RishiSunak announcements tmrw we should talk about cuts to employers National Insurance - an option the government has been considering to help tackle rising unemployment...
Quoted @carapacitti
My Friday chart rabbit hole - Eat Out to Help Out and covid infections: .@HMRCgovuk published data on Eat Out to Help Out take-up by parliamentary constituency, and they make for interesting reading - even if they only show claims up to 27th August so far. https://t.co/h5P4UR0zG2
Excellent thread: https://t.co/45vWno7B10
Quoted @tonywilsonIES
Great to see #kickstart launched today. Credit to govt for taking on board feedback on its design, with clear space for private sector, local govt, public bodies, charities to create great jobs. Wld urge people to do it. Some thoughts below, incl reflecting on my time doing #FJF
Excellent thread on govt's #kickstart scheme, being launched today. https://t.co/CXzqGL0uId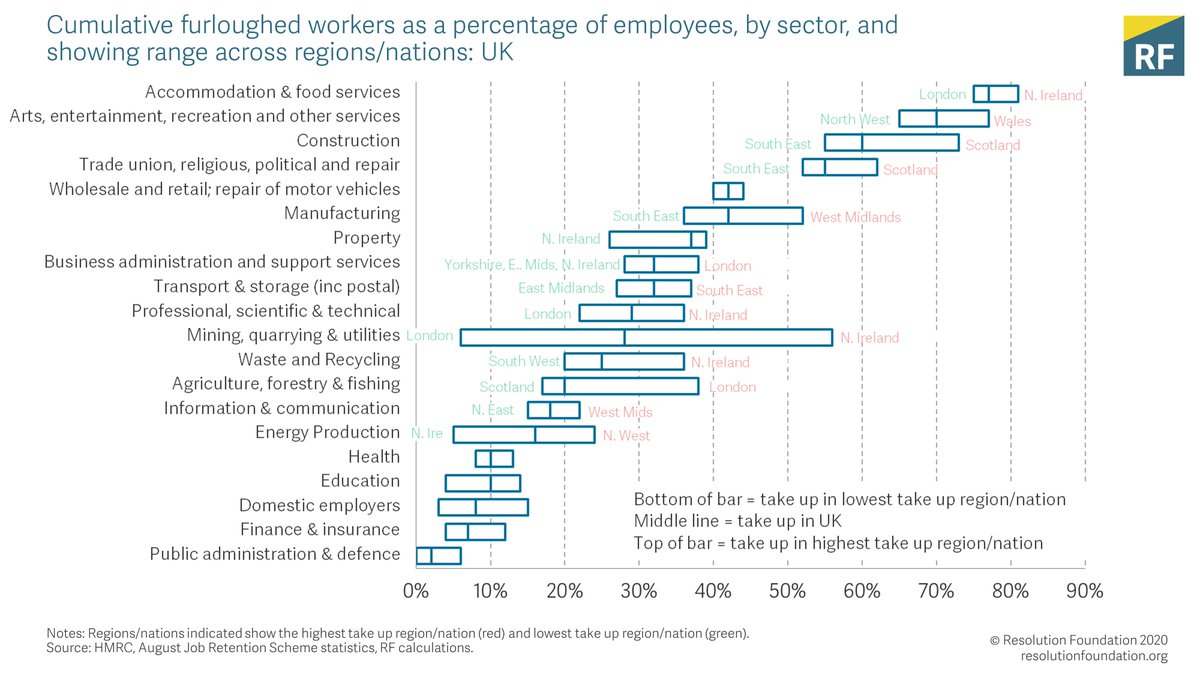 @nyecominetti NEW chart from @nyecominetti from new @HMRCgovuk data. Little regional variation in take-up of the Job Retention Scheme but huge sectoral variation. Worth bearing in mind as Chancellor contemplates whether to extend the scheme. Further support for hard-hit sectors clearly needed https://t.co/lxFMtFJER2
For instance, we have previously called for investment in social care and 'green jobs' like home retrofitting. There's no panacea – to help workers policy will need to fire on multiple fronts. Time to get going. 12/12 https://t.co/m5xSqLcZHS