We looked inside some of the tweets by @jimsciutto and here's what we found interesting.
Inside 100 Tweets
Time between tweets:
2 hours
Tweets with photos
11 / 100
Tweets with videos
6 / 100
Rankings
(sorted by number of followers)
"One part of the bedroom set-up will be markedly different with the Bidens than it was for the Trumps: the Bidens will be sharing a bedroom." https://t.co/02LRkNR4nU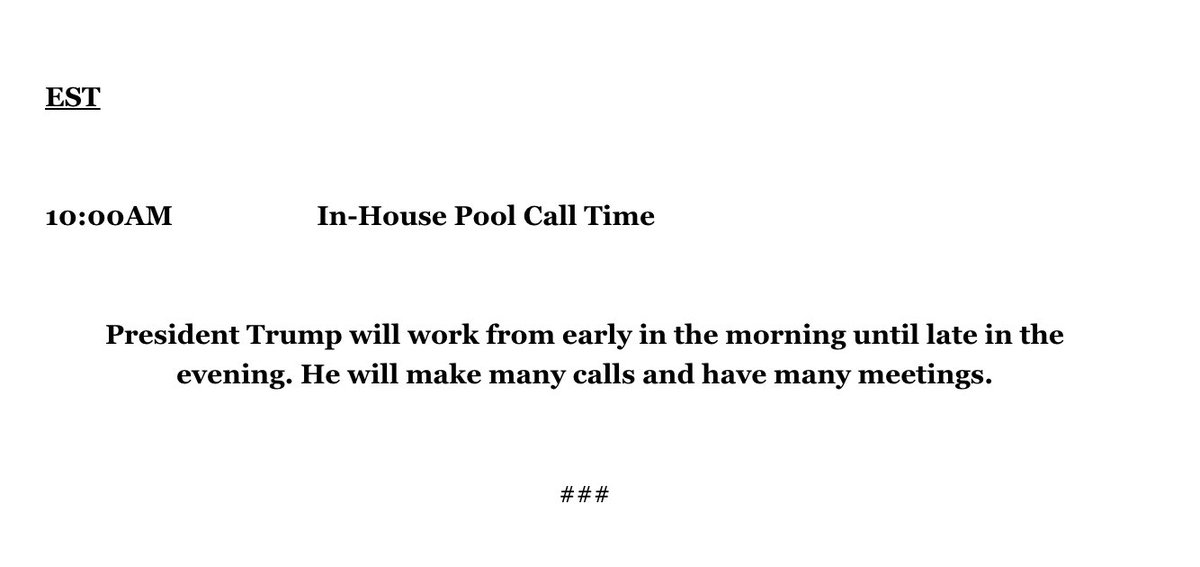 Trump's schedule for his final day in office - a cut and paste job from the last several days. https://t.co/yvxgrzf3O1
A defamation law firm representing Dominion Voting Systems has sent a letter to MyPillow CEO Mike Lindell warning that legal action is "imminent" and formally demanding he stop making false claims about the company. @kaitlancollins reporting
Quoted @SecPompeo
Deeply troubled by Russia's decision to arrest Aleksey Navalny. Confident political leaders do not fear competing voices, nor see the need to commit violence against or wrongfully detain, political opponents.
"Confident political leaders do not fear competing voices" https://t.co/jviEL8PEoF
Exactly right. Trump did that by unmasking and endangering the lives of US/Israeli undercover agents in the Oval to impress the Russians right after firing Comey. Why wouldn't he do it from wherever he makes his lair after being drummed out of DC? https://t.co/lA1pKmheRb
Quoted @yashar
People keep asking why Navalny went back to Russia...some have called it foolish. How do you think change happens? It doesn't happen from a comfy apartment in Berlin or New York. It happens when people like @navalny are willing to sit in prison or take a bullet.
Authoritarians celebrate when dissidents flee. If they can't imprison or kill them, they raise the price to the point of being unbearable. @navalny - victim of poisoning and more - has an incredibly and admirably high threshold. https://t.co/K2R4MBJtHd