We looked inside some of the tweets by @dorianjharris and here's what we found interesting.
Inside 100 Tweets
Time between tweets:
9 hours
Tweets with photos
6 / 100
Tweets with videos
0 / 100
Quoted @21WIRE
NEW: Chinese health experts have now called on Norway & other countries to suspend the use of the controversial mRNA-based COVID-19 #vaccine produced by companies such as Pfizer, AstraZeneca, Moderna... Watch, help us share this important video report: https://t.co/qXaiUBfgWb
Vaccine wars commence. https://t.co/m6JUnZQ6Jg
Quoted @lorz
"A record surge in Covid-19 cases in Ireland was due to increased social mixing over the Christmas period and is not caused by a new variant from Britain, the World Health Organisation has said." https://t.co/Q47GCDKRxx #B117
More doubts over the cause of the recent spikes in U.K. and Ireland. https://t.co/eida9mbTLw
Where are we in our pandemic?
If we delay the second vaccine and create partial immunity, would we risk spawning new variants? All eyes on the U.K.'s live vaccine experiment to find out. https://t.co/KkcVtrGGXJ
Quoted @DrEricDing
Let this sink in: Today, UK 🇬🇧 reports 1,564 new #COVID19 deaths, biggest one-day increase on record. UK is ~1/5th the population of US. This would be equivalent to almost ~7800 deaths per day if U.K. is the size of US. #B117 is a nightmare. https://t.co/0oWBNWbQIU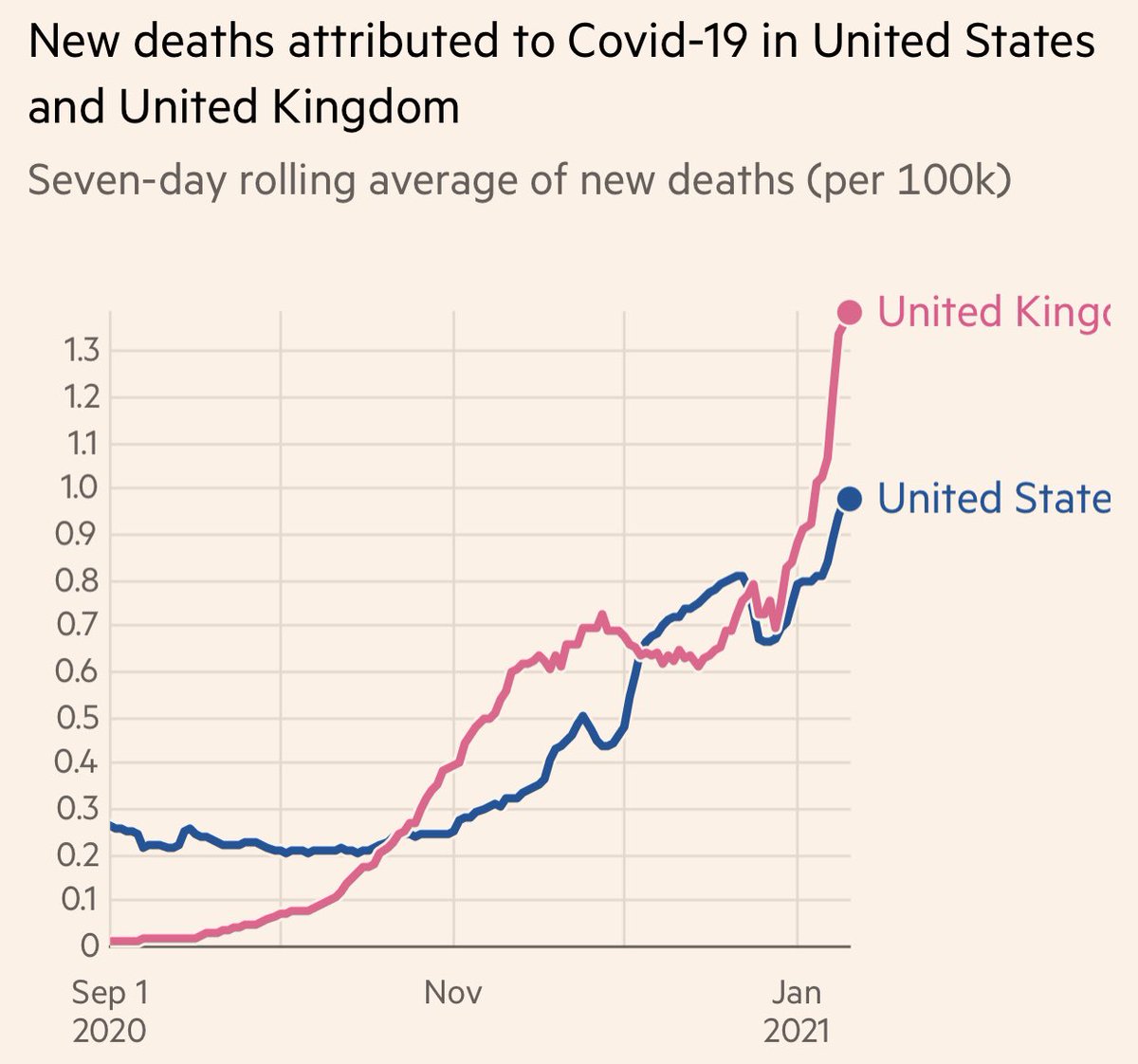 Pro rata, the U.K. has almost double the daily deaths of the U.S. https://t.co/oMQqMG81Zt
.@MattHancock My 2nd dose of Pfizer vaccine is cancelled & will now be given off licence, much later than it should be. I consented to a vaccination programme, not a clinical trial. How can you legally change the regime halfway through from what people originally consented to? 😡
Quoted @redouad
Countries with the most daily confirmed COVID-19 cases per million people: 🇮🇪 Ireland 1225 🇨🇿 Czechia 1035 🇬🇧 United Kingdom 877 🇸🇮 Slovenia 871 🇮🇱 Israel 806 🇵🇦 Panama 772 🇺🇸 United States 747 🇸🇪 Sweden 737 🇱🇹 Lithuania 663 🇵🇹 Portugal 646 Source: https://t.co/SQYpwxfpKz https://t.co/LmFDzQvBSy
The UK isn't top at anything any more. Close enough though. https://t.co/7tlRaNDfWd