We looked inside some of the tweets by @dianafortn and here's what we found interesting.
Inside 100 Tweets
Time between tweets:
2 hours
Tweets with photos
16 / 100
Tweets with videos
0 / 100
Greece has asked Israeli leaders to lobby the Trump administration to take a stronger position in an intensifying dispute with Turkey in the Eastern Mediterranean. https://t.co/vBmgDHeW24
Had citizenship questioned while running for office (was born in the U.S.). Never been questioned before then. Gosh. We're so much better than this. Trump campaign attack on Kamala Harris's citizenship is right out of the birtherism playbook https://t.co/Su2UVSWkT7
@dianafortn @CitizensTn Caveat: I'm mostly a socio-political colonial and gender historian or herstorian. I'm interested in documenting voices from below, especially using petitions and oral testimonies. Secondary research interests border around war, memory, transnational politics and foreign policy.
@dianafortn @CitizensTn The truth is that Nigeria is one of the richest countries in the world in terms of it is enormous human & material resources & paradoxically, belongs to the class of the world's poorest countries. I have argued that this decline & malaise dates back to the Nigerian/Biafran war...
@dianafortn @CitizensTn This is a convo that needs to be heard. US-African trade relations definitely need to improve especially with the unequal balance of trade. Africa needs to come to a level playing ground in terms of investment with the West. And human rights discourses must be strengthened.
Last night sent a strong message to every child born to immigrants (no matter Dem or Rep) in this country - you are an American. There is a place for you here. https://t.co/G38dtX6QPV
Quoted @JoyAnnReid
Prediction: Black women (especially HBCU grads, Black sorority members and Links) will be at the polls this year like... Repost from @MidwinCharles • Black women headed to the polls in November to vote for… https://t.co/oWsQTAaSdo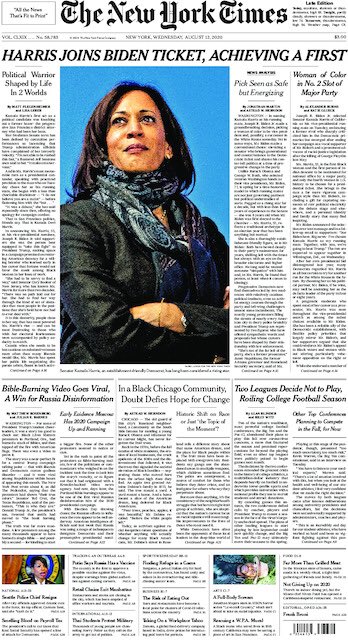 Scroll through this thread and think about all the girls (and boys) who will be seeing these covers across the country and world. https://t.co/dBabJemvgU