We looked inside some of the tweets by @daveyalba and here's what we found interesting.
Inside 100 Tweets
Time between tweets:
an hour
Tweets with photos
22 / 100
Tweets with videos
0 / 100
"Despite what Sullivan's footage actually showed, however, to far-right media outlets desperate to blame the left for the mayhem, the presence of Sullivan, who was filmed denouncing Trump at protest in Washington last summer, was a godsend." https://t.co/3HlOw0oUP9
Quoted @daveyalba
The No. 3 link on the internet in the last 24 hrs, via NewsWhip, is this unfounded Fox video of Lou Dobbs & John Solomon saying they can "confirm" the president is declassifying documents on the bogus conspiracy Obamagate. It has 234K interactions on FB; reached up to 1.7M people https://t.co/fOOHagYrtA
This brand of big-things-are-coming disinfo is so insidious and effective https://t.co/ni8WC7NIgi
Here's my colleague @kevinroose with a comprehensive debunk on the Obamagate nonsense: https://t.co/qULsZEwu9A But KEVIN, fact check — the attacks apparently haven't fizzled!
ALSO this is the same tactic that Sidney Powell used with her "release the Kraken" hype/upcoming legal filings (which the courts have now ruled on and found that there is no there there) https://t.co/W0YPMMM8zn
Btw Solomon pushed the unfounded conspiracy about the Bidens and Ukraine that The New Yorker documented well here https://t.co/OhCmpnHY4O
The No. 3 link on the internet in the last 24 hrs, via NewsWhip, is this unfounded Fox video of Lou Dobbs & John Solomon saying they can "confirm" the president is declassifying documents on the bogus conspiracy Obamagate. It has 234K interactions on FB; reached up to 1.7M people https://t.co/fOOHagYrtA
Quoted @rothschildmd
Mainstream conservative blog American Thinker posted a long, pseudonymous piece explaining the basics of QAnon. It presents the more vanilla, military intelligence puzzle version and leaves out the baby eating and mass executions. And it's all accepted with no skepticism. https://t.co/h7N7Yo1Oqa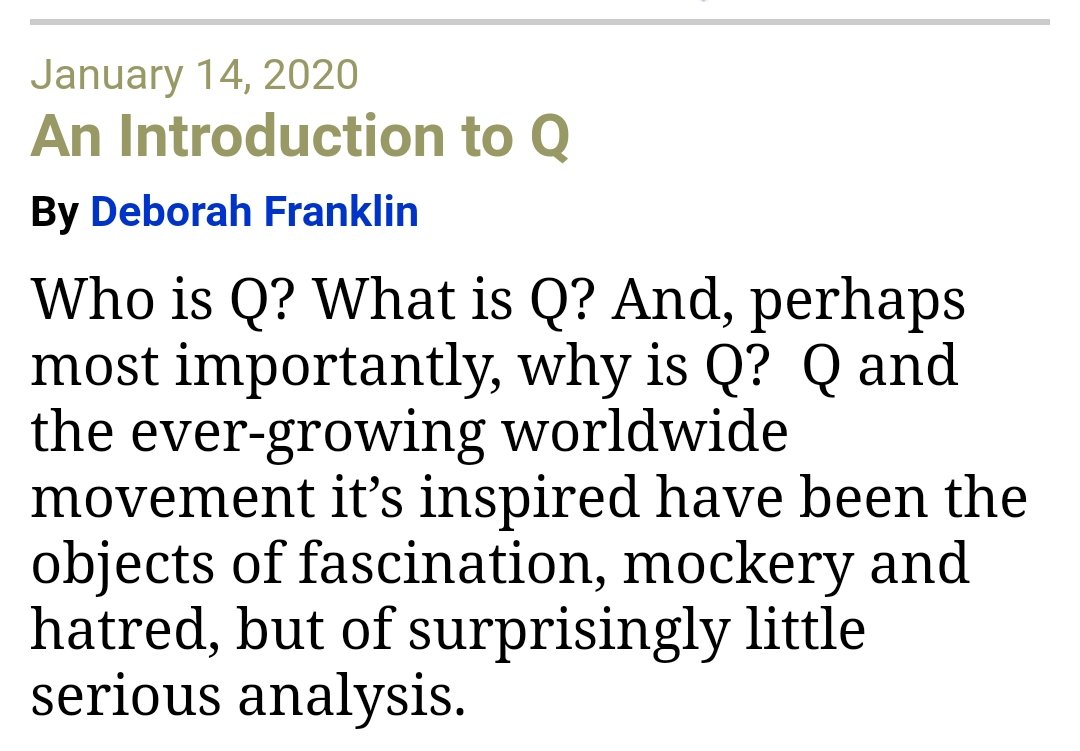 @daveyalba American Thinker has also written positively of QAnon. https://t.co/mG80VFdLbA
American Thinker, which has published conspiracies about Dr. Fauci as a member of the Deep State secretly undermining Trump, issues mea culpa on Dominion voting machine lies—but only *after* they were sued for defamation https://t.co/MIu7W5RqaG
icymi, I was on the @CJR podcast earlier this week talking with @kylepope and @daveyalba about the Trump Putsch, its early warning signs, and upcoming demonstrations set for the weekend and inauguration day... https://t.co/qzF516BiNy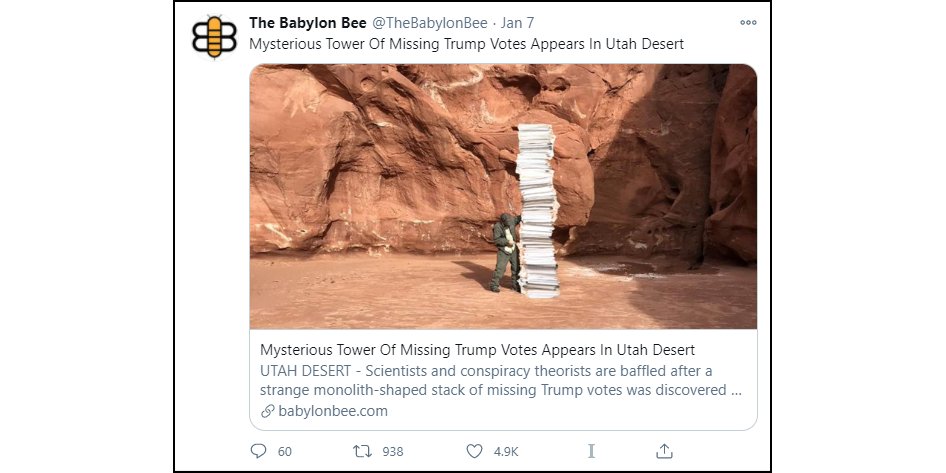 @daveyalba @ParkerMolloy I'm interested in this phenomenon as well: Satire that relies on the uncritical presentation of a falsehood to function. The Babylon Bee does this on a regular basis -- for example: https://t.co/EAqCh8ygsD