We looked inside some of the tweets by @Tracinski and here's what we found interesting.
Inside 100 Tweets
Time between tweets:
24 minutes
Tweets with photos
20 / 100
Tweets with videos
5 / 100
Quoted @Tracinski
Just realized that 2026 will be the 250th anniversary of the Founding. To create the first society based on individual rights and have it last a quarter of a millennium is an awe-inspiring achievement. But my god what a parade of sackcloth and ashes it's going to be.
Optimistic take: Pfft, we still have six years to turn things around. That's forever! Pessimistic take: LOL dude thinks civilization will still exist in six years https://t.co/l1pFMxIvA8
Quoted @harrylitman
From Barr's confirmation hearing: "Q: Do you believe a president could lawfully issue a pardon in exchange for the recipient's promise to not incriminate him?" Barr: "No, that would be a crime."
Under Barr's own standard, described to me under oath during his confirmation hearing, the Justice Department should investigate. https://t.co/SpHunJh4ll
@Tracinski All specialized Twitters are slightly worse than general Twitter. All the groupthink and infighting (and there's somehow always both) you get from normal bubbles just gets layered onto the background awfulness of Twitter.
The best way to avoid nursing-home Covid-19 outbreaks is to avoid Covid-19 outbreaks, period https://t.co/HSlGDQT6qL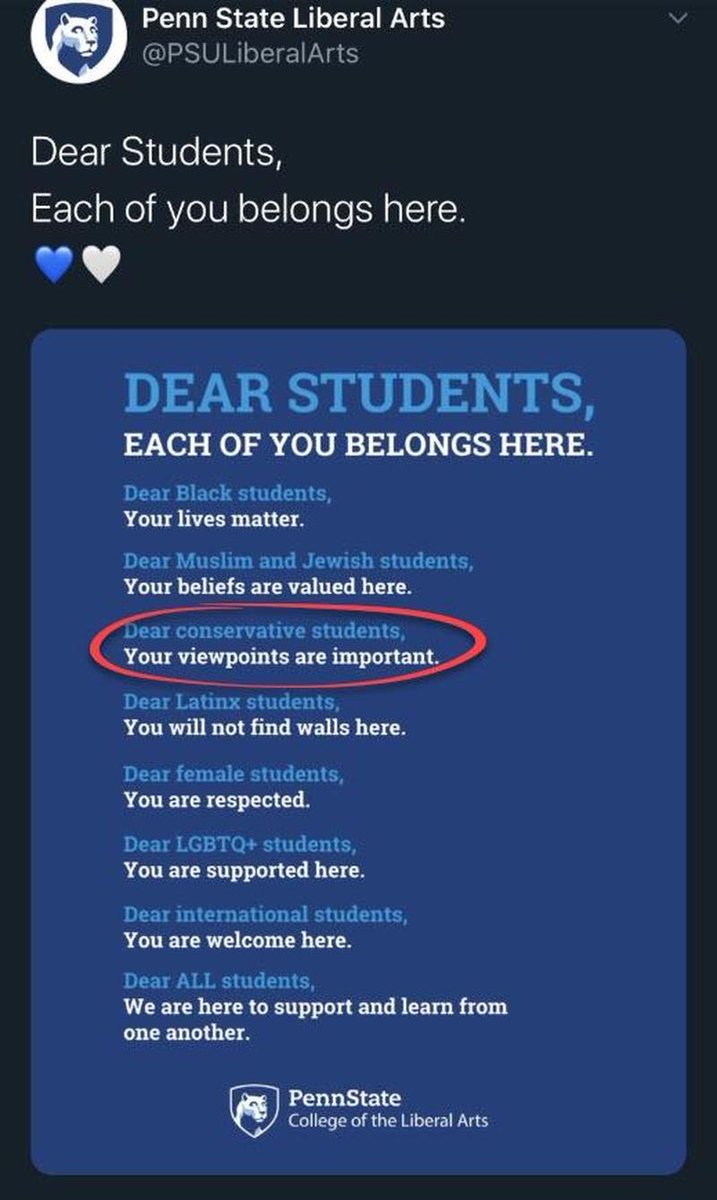 Penn State deleted this tweet which affirmed that conservative students are welcome on campus after *checks notes* liberal students expressed outrage https://t.co/KuCvJtoKfr
@AviWoolf @aaronsibarium That was the single most amazingly inconsistent thread ever. It went from _Destroy your capitalist overlords!_ to _Your capitalist overlords can fire you for anything you do and you'll like it!_ in, like, four tweets.
"I believe that the president has learned from this case...The president has been impeached. That's a pretty big lesson. I'm voting to acquit...I believe that he will be much more cautious in the future." - Susan Collins What does @SenatorCollins have to say about Roger Stone? https://t.co/PbLuFrAgOP
@Tracinski Strange new respect for the Hollywood blacklist, apparently.
Another brilliant piece from ⁦@davidfrum⁩ the Republican Party needs a future and this could be the blueprint. David Frum: The Republican Party Needs Liberal Values - The Atlantic https://t.co/8wPWfUB6QF