We looked inside some of the tweets by @SenBooker and here's what we found interesting.
Inside 100 Tweets
Time between tweets:
8 hours
Tweets with photos
16 / 100
Tweets with videos
5 / 100
Today is #BlackWomensEqualPay Day which marks the nearly 8 extra months it would take for Black women to be paid what white men were paid the prior year. This unfair reality undermines the potential of working women & hurts our families & our economy—we must close the #WageGap.
The NCAA has failed generations of young men & women even when it comes to their most basic responsibility—keeping athletes healthy & safe. Our college athletes bill of rights—legislation I'll formally unveil in the coming months—will change that. https://t.co/fdCBVKyetv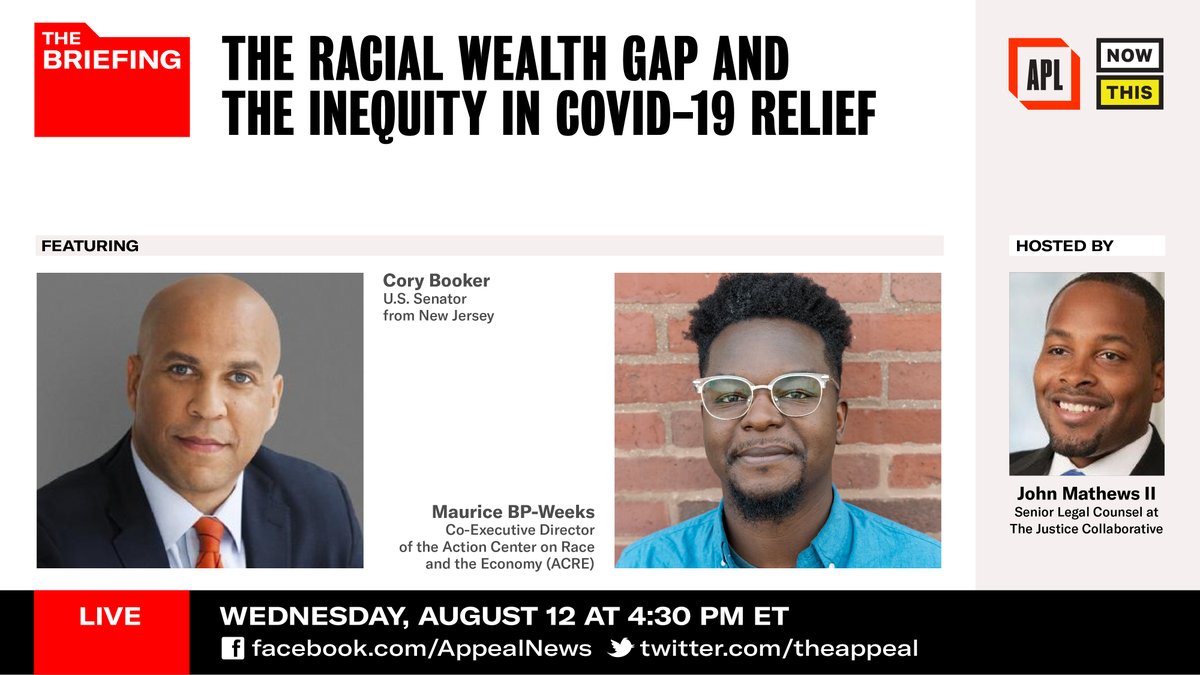 Racial wealth inequality is increasing and the government is failing to provide equitable relief in light of the pandemic. Today on "The Briefing" Sen. @CoryBooker will discuss what legislation is out there that could start to turn the tide, live at 4:30 ET/1:30 PT. https://t.co/EKpPYsM1vp
"This time of racial reckoning can't stall. It has to expand and the conversations have to continue. Being pulled out of our comfort zones is such a critical part of the growth that we need to do." - @CoryBooker https://t.co/LvyTeuNNVC
During #NHCW I'd like to give a shout out to another NJ health care hero, Dr. Richard Watson, from @Zufall_Health who has gone above and beyond helping his patients during this pandemic. Thank you for your service, Dr. Watson.
70% of the wealth in this country is in the hands of just 10% of households. We must close this wealth gap. Baby Bonds is one way to help get this done that will help all Americans build wealth while also virtually eliminating the racial wealth gap. https://t.co/MJcTpf34g0
Today to kick off National Health Center Week I'd like to shout out one of our health care heroes, Ana Rebelo from @SJHealthNewark. During this #COVID19 crisis, Ana has been staffing testing sites & going door to door to assist patients—so grateful for her incredible work. #NHCW
Tens of thousands of workers at meatpacking plants have been infected with #COVID19 as a result of unsafe practices which have only gotten worse as the USDA continues to grant dangerous line speed waivers. I've introduced legislation to stop this. https://t.co/EEpy3HrRA9
Democrats put forth a comprehensive plan to respond to #COVID19 months ago—back in May. Senate Republicans wasted time, and now, as unemployment benefits expire, they want to call us obstructionists. Americans are hurting—it's time to act boldly. https://t.co/r1Y30ZpvD7
Quoted @ABCWorldNews
Citing the growing toll from a hidden side of the coronavirus pandemic, top Democratic lawmakers are looking to require state and federal prisons to open their books on the number of cases behind bars. https://t.co/tuzDLR5kZr
People in jail are disproportionately contracting & dying of #COVID19 due to the inability to social distance & higher rates of underlying health issues. To track & stop the spread of this virus & save lives, we need data that reflects the reality of the crisis we are facing. https://t.co/Rt0g6RP2Xc
College sports is rife with instances of abuse and exploitation. It's clear that federal action is needed to protect the health and safety of all college athletes. https://t.co/RZR1Fqjc1W