We looked inside some of the tweets by @Mikel_Jollett and here's what we found interesting.
Inside 100 Tweets
Time between tweets:
3 hours
Tweets with photos
11 / 100
Tweets with videos
26 / 100
I've come to believe that universal mask-wearing and no bars and restaurants can get us to effective suppression of the virus. https://t.co/yvKoQHc6Kl
Quoted @BillOReilly
Looks to me that Biden had an idea of what the questions would be, at least areas of questioning.
The "Biden memorized all the questions and answers" talking point is somewhat in tension with the "Biden has dementia" talking point. https://t.co/s3CxxOw0JH
Joe Rogan lies to his millions of listeners that left-wing activists are starting forest fires in Oregon. This dangerous claim has been completely debunked. https://t.co/qbNK9GQB9h
Quoted @atrupar
"I'm not going to give you a readout of what our health care plan looks like and who's working on it. if you want to know, come work here at the White House" -- Kayleigh McEnany https://t.co/wjGyKalfX0
WHITE HOUSE PRESS SECRETARY: "I'm not going to give you FACTS or PLANS or IDEAS on PAPER that you can VERIFY. What do you think this is?" https://t.co/HWZdzCnxPu
Quoted @realDonaldTrump
Democrats are "heartless". They don't want to give STIMULUS PAYMENTS to people who desperately need the money, and whose fault it was NOT that the plague came in from China. Go for the much higher numbers, Republicans, it all comes back to the USA anyway (one way or another!).
This is an absurd lie. Democrats are pushing for a relief bill that provides six times more money than the "skinny" bill Republicans are pushing. https://t.co/HnhTDCsiqJ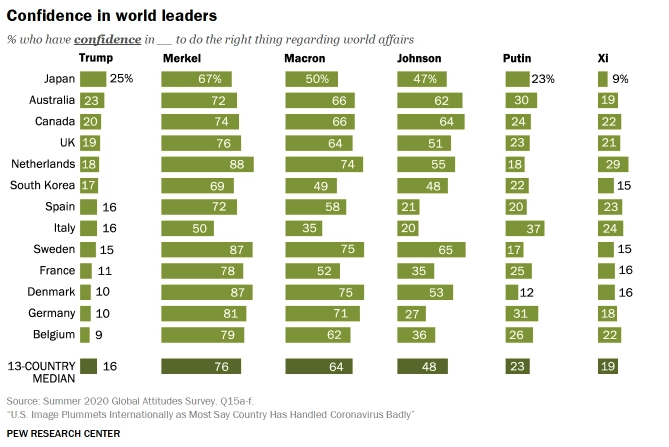 Look at the absolute state of this. Trump, in less than four years, has completely decimated the world's view of the United States. Many key American allies have more confidence in Putin or Xi than Trump. https://t.co/Wxg9rq9kQ7
The @Lakers will always own Los Angeles!! It will never change 😁