We looked inside some of the tweets by @JoshuaPotash and here's what we found interesting.
Inside 100 Tweets
Time between tweets:
12 minutes
Tweets with photos
16 / 100
Tweets with videos
47 / 100
Quoted @ScottHech
Ask any public defender & they'll tell you. Police lie every day. Not just sometimes. Not just some police. All police. Routinely. Not only are there no consequences, lying is incentivized. The more arrests, the more promotions. Lying is a winning strategy.https://t.co/nHuPOugV76
The case that drove me out of public defendering: client, a Black Latino man, was pulled out of a ticket line at Penn Station by DEA agents. For no good reason. Taken to their office and his bag searched. I filed a motion to suppress. /1 https://t.co/seaJ6YbE5s
So it feels like people don't know: 1. There's still an occupation at NYC City Hall. 2. There's an occupation outside the Governor's mansion in North Carolina. 3. A sit-in has started at #BlackLivesMatter plaza in DC. 4. The Aurora police station is surrounded right now.
Seems like it should be bigger news that thousands of protesters have surrounded the Aurora Police Department. And are saying they won't leave until the cops who murdered Elijah McClain are fired. Their names are Randy Roedema and Nathan Woodyard. https://t.co/AacTwcD2QB
Ask any public defender & they'll tell you. Police lie every day. Not just sometimes. Not just some police. All police. Routinely. Not only are there no consequences, lying is incentivized. The more arrests, the more promotions. Lying is a winning strategy.https://t.co/nHuPOugV76
We need reinforcements. Cancel your plans. Come through. Aurora Police Dept, 13347 E. Montview. We'll be here all night—or until Roedema and Woodyard are fired (or resign). #APDoccupation https://t.co/I67VcYzGRl
Spread the word! A sit-in has started at #BlackLivesMatter plaza in DC. At least 250 people are there. Police have come late at night to terrorize people in the plaza. But there is strength in numbers. So please get down there if you can! https://t.co/lt6FjL0lKE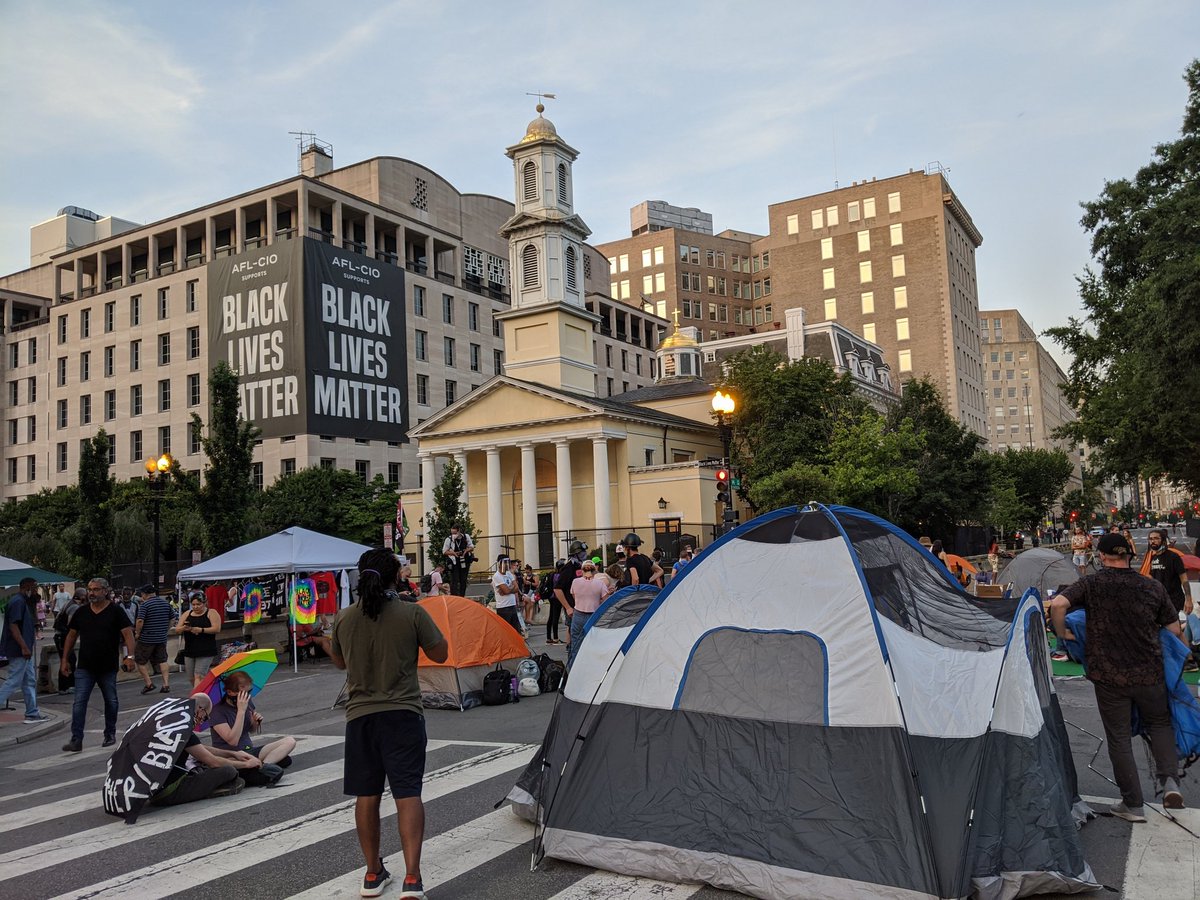 A quiet night earlier on Black Lives Matter Plaza as vehicle traffic returned to H and I streets NW. But about 8 p.m. demonstrators set up camp at BLM and H Streets just outside Lafayette Square Park. https://t.co/rFkRdhieRn