We looked inside some of the tweets by @JayFaerber and here's what we found interesting.
Inside 100 Tweets
Time between tweets:
25 minutes
Tweets with photos
0 / 100
Tweets with videos
5 / 100
Quoted @CollinsforGA
RIP to the more than 30 million innocent babies that have been murdered during the decades that Ruth Bader Ginsburg defended pro-abortion laws. With @realDonaldTrump nominating a replacement that values human life, generations of unborn children have a chance to live.
Jesus Christ, what a fucking ghoul. https://t.co/wq1aI8Jqin
Quoted @geeholla
Fun fact: 4 of 5 conservative SCOTUS judges were appointed by presidents who lost the popular vote.
Man, humans love to shrug shit off. https://t.co/DtYzyQb1lF
Quoted @benjaminwittes
Very sad to hear to hear the news about #RBG, an inspirational figure and a genuinely wonderful person. Can we please take 24 hours to talk about her, her contributions—which were enormous—and her legacy before talking ghoulishly about the political implications of her death?
Mitch McConnell didn't even wait an hour. He had a whole statement ready, buzzarding her death. Democrats would be fools to pause and wait for him and Barr and Trump to swallow our democracy whole. https://t.co/wDg51lTgSk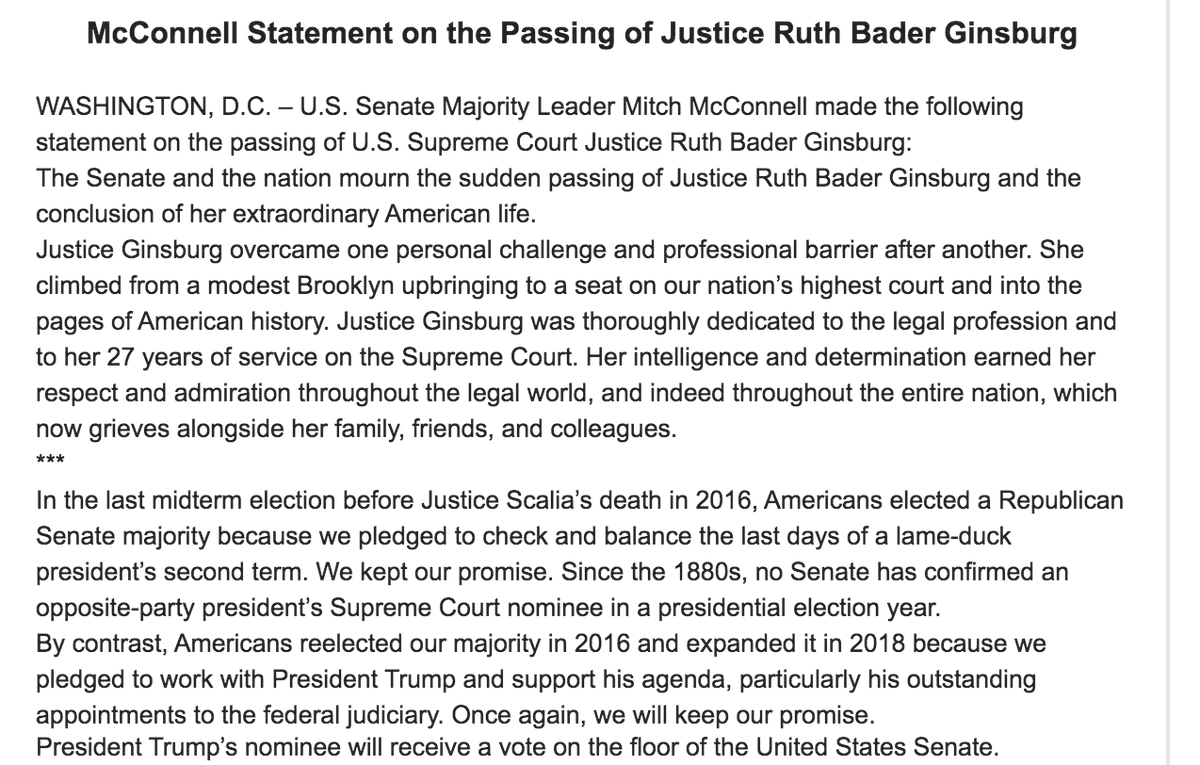 McConnell says he's abandoning the Biden Rule and will give a Trump SCOTUS nominee a floor vote in an election year. https://t.co/MjhhQmdUdy
The American people will choose the next president who in turn will nominate the next Supreme Court justice. #LetThePeopleDecide
Quoted @SenSchumer
The American people should have a voice in the selection of their next Supreme Court Justice. Therefore, this vacancy should not be filled until we have a new president.
This is a direct, word-for-word quote of McConnell's tweet after Scalia's death in 2016. https://t.co/2WGE4erZ1L
Quoted @BernhardVienna
@marcbernardin Do the producers of Picard read the reviews and how do they use them? Is it good for producers to read reviews or does that distort their vision?
No producer reads every review of their show. The smart ones don't read any. Not because feedback isn't worthwhile, but because story decisions can't be made based on feedback that's sometimes a year old. https://t.co/IleRpROHcL
Trump lied about mail-in voting, calling it a scam. Just as he was leaving, @HallieJackson shouted, "Is it still a scam if you win, sir?" Trump did not answer.
Quoted @ChrisMegerian
The president is complaining that officials will want to count all the ballots before deciding who wins the election.
You're reading this right. This is what the President suggested. https://t.co/ESM0Zx6lcT
This is so sad -- and infuriating. The Sea to Sky Gondola is one of my favorite attractions when I'm visiting BC. https://t.co/N5WgbmTLs6