We looked inside some of the tweets by @IT_not_real and here's what we found interesting.
Inside 100 Tweets
Time between tweets:
an hour
Tweets with photos
21 / 100
Tweets with videos
0 / 100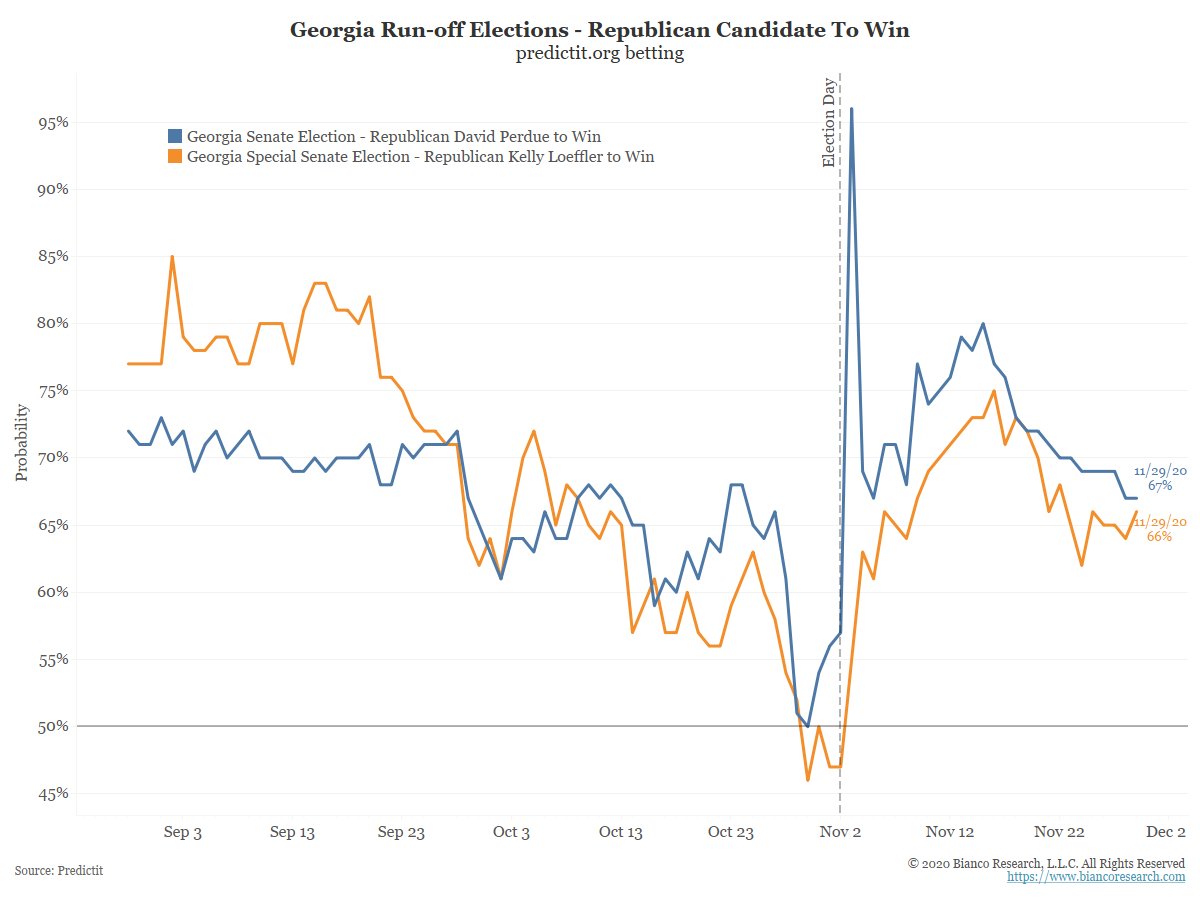 Pollster/commentator @FrankLuntz on Bloomberg TV now. "More money is being spent on the two Georgia runoff elections than any non-presidential race in American history." Georgia TV is non-stop political ads, 95% are negative. Six weeks to go. Latest betting markets ... https://t.co/zmjNxYidyX
Quoted @kylegriffin1
In the end, the system stood firm against Trump because of a Republican city clerk in Michigan, a Republican secretary of state in Georgia, a Republican county supervisor in Arizona and Republican-appointed judges in Pennsylvania and elsewhere. https://t.co/hh2aIsUvOW
Heroes. https://t.co/RLjJKPPrA0
@RadioFreeTom We need more curmudgeons. People who embrace the basic elements of liberal society, and maybe even a little progressivism, but are also willing to tell utopian lefties when they're full of shit.
1. Georgia Senator David Perdue (@Perduesenate) is in a competitive Senate race and won't take questions from the local media. Why? He has repeatedly lied to the public and press about his stock trades. And now he's been caught. Let's review. https://t.co/i5gEhyjuL4
Quoted @Noahpinion
Why do many Trump supporters, Republican party officials, and even some Fox News anchors still claim that the election was fraudulent, despite all the mountains of evidence to the contrary? My theory of political lying as tribal signaling: https://t.co/Q2JJID5GC1
Really not sure this works. For the theory to work the cost of lying has to be significantly bigger than the cost of telling the truth. but do we have any evidence for that? https://t.co/rNXTZCq2RI
@davidfrum Yep! The both sides coverage of Biden's choices is going to be so absurd. Trump appointed racist judges who never tried a case. He appointed his family members to major roles. Asymmetric polarization. https://t.co/rN7V089KCh
The stakes in the Georgia runoffs couldn't be higher. GOP Senate means: * More economic misery * More illness and death from Covid * Validation for declaring elections illegitimate as a weaponizable political tactic I talked to @ossoff about all this: https://t.co/7CZnTfEcfC

SCOTUS will hear the outgoing Trump admin's appeal of a unanimous three-judge ruling rejecting its memo attempting to exclude undocumented immigrants from census apportionment. @NewYorkStateAG pointed to an ugly pedigree of redefining "persons." Covering live, @LawCrimeNews https://t.co/oi1DJzVZjF
But in the meantime, back on Earth, 80 million Biden voters (and those Trump voters outside the MAGA cult) would like to get back to the business of solving national problems, running a responsible government and modeling American values. https://t.co/G8aKT2VhZM
Quoted @mattyglesias
The way I would put it is that an odd feature of the online public sphere is that discourse trends so heavily in the direction of pointless extremism that very banal, widely held, correct opinions can begin to play like contrarianism.
Endorse. Pointless extremism. Disregard for the ground limitations & pragmatic considerations. Extreme focus on linguists, aesthetics, and not solutions. https://t.co/PPE5cqoIiV
Quoted @JamesSurowiecki
The other thing that's always left out of these "How could Trump have lost?" threads is that Trump lost the popular vote by millions of votes in 2016, too. Most people who voted in 2016 didn't vote for Trump. It's hardly "puzzling" that the same thing happened in 2020.
Literally every single day of Trump's presidency, a majority of Americans disapproved of him. Trump was was the most consistently unpopular first term president in the history of opinion polling. https://t.co/Z5lB6xILYA