We looked inside some of the tweets by @GarrettHaake and here's what we found interesting.
Inside 100 Tweets
Time between tweets:
5 hours
Tweets with photos
10 / 100
Tweets with videos
0 / 100
Quoted @houmayor
🚨 We are sending a letter to the executive director of the Texas GOP party to ask them to cancel this month's convention in Houston. I am asking them to have a virtual event. It is not a good idea to have an in-person event. 🚨
Houston's mayor asks state GOP to cancel their in-person convention in Houston. The party had just voted to reaffirm their plan to hold the convention. https://t.co/kriLNtYSqV
Quoted @frankthorp
MCCONNELL in KY: "I think it's important for all of us in public life to continue to emphasize that the single most important thing that each of us can do as individuals to protect not only ourselves but our friends and colleagues is to wear a mask." https://t.co/sohFxBu4o5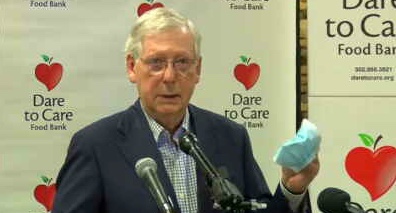 I can't think of an issue on which McConnell's & Trump's public comments and behavior have been as different as on mask-wearing. McConnell has been banging the drum for masks in every public appearance & wears one everywhere you see him on the hill. https://t.co/7v5YTp4vUW
Quoted @GarrettHaake
Dallas County, TX just set another daily high for new coronavirus cases, with 234. The first time the daily count has been above 200. "I'm hopeful that the medical models will prove correct and we are nearing the peak," @JudgeClayJ says in a release
I spent the entire month of April in Texas on pandemic coverage. The day I left, the state had just reopened outdoor dining and Dallas county reported 234 new cases. I'm headed back to Texas today, and the same county just reported 1,062 cases in a day. https://t.co/pCRJVKmX2v
Quoted @SenatorWicker
This is a historic & long-awaited day for Mississippi. I appreciate our state legislators for having the courage and conviction to make this necessary change to our state flag. As I have maintained since 2015, Mississippians deserve a banner that unites us rather than divides us.
This was Mississippi's senior, Republican, Senator last week when MS decided to remove the confederate emblem from its state flag. The President is on a tiny island on this issue. https://t.co/j70rbiUhhT
Quoted @realDonaldTrump
Has @BubbaWallace apologized to all of those great NASCAR drivers & officials who came to his aid, stood by his side, & were willing to sacrifice everything for him, only to find out that the whole thing was just another HOAX? That & Flag decision has caused lowest ratings EVER!
President kicks off the week by going after NASCAR's only top black driver and criticizing the racing association's decision to ban Confederate flags https://t.co/cSFRq3lv7j
Quoted @REDROMINA
Can you describe your favorite movie as boring as possible?
A quiet banker spends a really long time in a prison in Maine, running a library. https://t.co/thKAKuKDUb
Tucked away in this excellent @nytimes story is a bit of #KSSEN news: Trump allies say he won't endorse Roger Marshall for fear of angering his OWN supporters by spurning Kobach. (A Kobach primary win could widen senate battlefield for Dems to include KS) https://t.co/CMqRfzfFaJ
Here's what Abbott and any public health official in Texas is up against on masks. Replies to @GovAbbott tweet include people calling him a "shame to Texas," who "folded to the mob" and is engaged in "virtue signaling." "Damn, he swallowed the Fauci pill" reads one reply.
Quoted @GovAbbott
Wearing a face covering in public is proven to be one of the most effective ways to slow the spread of #COVID19 while continuing to keep Texas businesses open. Texans should wear a face covering for the health of their families, friends, and for all fellow Texans. https://t.co/5oWVfZMsph
"COVID19 is not going away. In fact, it is getting worse," Gov. Abbott says in video message explaining his statewide mask order for Texas. https://t.co/6On3h1OaYz
Quoted @davidgura
INBOX: #Texas Governor Greg Abbott "today issued an Executive Order requiring all Texans to wear a face covering over the nose and mouth in public spaces in counties with 20 or more positive COVID-19 cases, with few exceptions."
Local officials in Houston and Dallas (and other cities) have been calling for this for some time now. https://t.co/AWYXTts07o
I don't want to make light of the serious challenges facing the restaurant industry right now, but kudos fo @RepMaxRose & staff for their "RESTAURANTS Act" acronym: The Real Economic Support That Acknowledges Unique Restaurant Assistance Needed to Survive.