We looked inside some of the tweets by @Corey1911 and here's what we found interesting.
Inside 100 Tweets
Time between tweets:
8 hours
Tweets with photos
5 / 100
Tweets with videos
0 / 100
The number of accounts on both right and left of the horseshoe retweeting the same video of Tulsi at the same moment in time isn't suspect at all. #RussianInterference is still very much a thing.
Quoted @asoukuptx
Bill Simmons' in his latest podcast: "Luka's assists are like Bird's - they're not cheap assists... like the James Harden type of assists'.
The three-fifths assist https://t.co/izRBrfZPUR
Quoted @RudyMehrbani
National Security Advisor Robert O'Brien on @FaceTheNation right now, in response to whether Trump has told Putin to stop meddling in US elections: "Unlike my predecessors, I don't get involved in conversations the President has with foreign leaders." No kidding.
That's a core part of the job of NSA. I wonder what else he isn't doing. https://t.co/aT5HmcQsQD
@CNN The only thing Trump's face will be on after next January, is a MUG SHOT.
This has nothing to do with the 2nd Amendment. NRA is corrupt...just like the Trump Foundation. You can still buy your beloved murder weapons. https://t.co/I5ju9IjPU9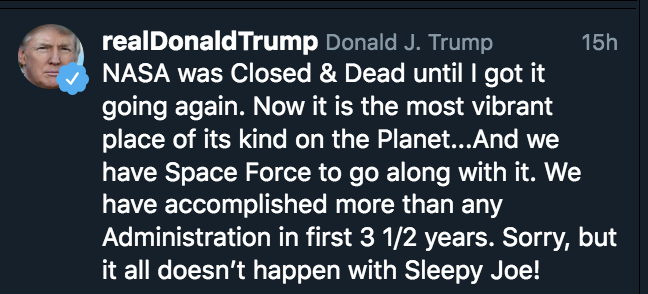 Holy shit - then where had I been going to work before you showed up???? This is quite concerning!!!! https://t.co/cNEakmEvsp