We looked inside some of the tweets by @AnimaLumen and here's what we found interesting.
Inside 100 Tweets
Time between tweets:
4 hours
Tweets with photos
11 / 100
Tweets with videos
37 / 100
I found the most beautiful tarot deck on Etsy but it's from Germany and cannot be shipped to the US until COVID is over and I'm honestly: https://t.co/eH3QCjKxNG
It would be that random beer that has been flat for approximately 4.7 hours and someone used as an ashtray but you ended up drinking anyways cus you're so sloshed you forgot that shit has cigarette butts and -50 carbonation in it lmfao https://t.co/V3U0FAn4Sr
I love working at night and it's been so long since I did a group service under the light of the full moon 🤩🥰 https://t.co/GLcAywL4Ve
✨ Tarot Q&A Vlog ✨ -choosing your first deck -consecrating your deck -prepping your energy before a reading -programming your deck -how to pull spreads -what are predicted outcomes & can we change them? Amongst other questions answered 🤩🙌🏽 https://t.co/v8XgzRUmVf https://t.co/CkGnQblWcl
TAROT READING DEMO - The basics of tarot, cleansing and shuffling your deck, how to pull spreads, interpreting your cards and other questions answered in this educational vlog, now up on my YouTube 🤩🙌🏽🌝💕 https://t.co/5Nj8rVbylt https://t.co/kqlleza0Zx
"11 Practical Tips for Beginner Witches" is now up on my YouTube 🤩 This is my best advice for all those who are barely getting started on their witchcraft journey, who'd like to get the scoop on how to safely, efficiently and productively cast spells & do magic ✨ (Link below) https://t.co/tCibQhO1m0
✨ INTRO TO WITCHCRAFT - Tapping into your magic & creating your own magical practice ✨ Vlog available on my YouTube channel now 🤩 This is the perfect video for my fellow witches who are here to find their way back to magic & spirit "on their own" 💕 https://t.co/aOtTx0TmZ7 https://t.co/TwWV9Lg13M
✨ How to know if you've been hexed - Understanding different kinds of psychic attacks ✨ Now up on my YouTube channel (Anima Lumen) 🥰 Pls subscribe, share, comment, like the video if you enjoy this content and would like to see more of it 🤩☺️ https://t.co/kr24ogG0L2
Check out my new YouTube video that is all about ✨ PSYCHIC ATTACKS ✨ - Let's discuss energy vampires, evil eye, entity possession/attachment, curses, intrusive thoughts, and other topics that help us understand how low vibrational energy affects our lives 🧐🤓 (Link below) https://t.co/MJIAA1w26t
A lot of people are really new to spirituality, spell casting, rituals etc— I recommend following @AnimaLumen and purchasing her guides if you need help, she's a trusted source.
Quoted @AnimaLumen
🧿💜Capricorn Full Moon & Lunar Eclipse Group Service💜🧿 Anchoring positive change and reinventing ourselves to better suit our individual versions of success 🤩✨ $15 energy work - $55 with follow up tarot reading ✨ 07/04 - DM to reserve your spot! https://t.co/0vscQlD84s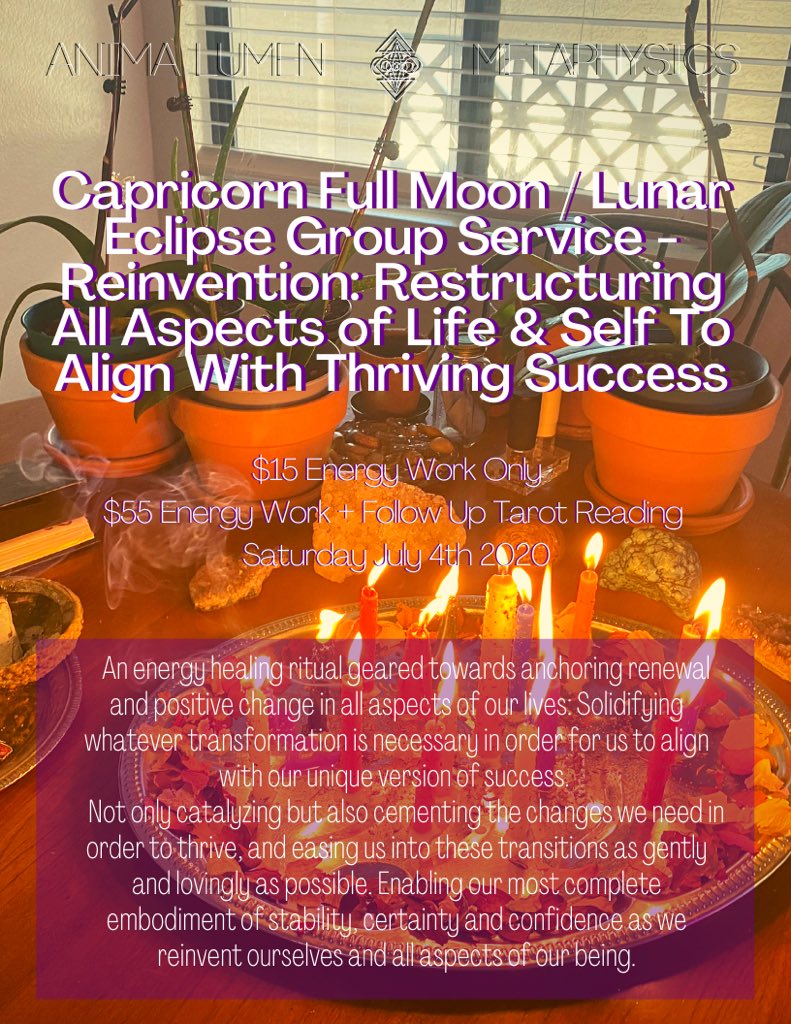 Only 4 hours left to sign up for this ritual 💕 DM me to reserve your spot!! https://t.co/Q7kUT81XqP
Quoted @HeThatOneNigga
Do bitches ever think DAMN this nigga Dm'd me 77 times maybe GOD sent him 🤔
No I usually think something along the lines of "damn this dude DM'd me 77 times so he's probably gonna make me put the lotion on the skin if I ever meet him" and then I block him lmfao https://t.co/2YF2sKBqEy