This is great development & important step. There's more to be done to end the for-profit caging of people in the US. We must include ending for-profit immigrant detention & examine the use of for-profit services that squeeze families of the incarcerated in public prisons, too. https://t.co/GyCXHLKcsq
Quoted @marcorubio
Waste of time impeachment isn't about accountability It's about demands from vengeance from the radical left And a new "show" for the "Political Entertainment Industry"
Quick question: If someone helped bomb a building or incited an assassination attempt on Congress, do you think they should face trial? It's a simple yes or no. Yes = Impeachment No = You have 0 integrity to speak on our justice system, terrorism, & policing ever again https://t.co/aV738JHD8E
BREAKING: U.S. Capitol Police knew there was a "strong potential for violence" on Jan. 6th but failed to take adequate steps to prevent...a "terrorist attack," admits the Acting chief. "I am here to offer my sincerest apologies on behalf of the department."https://t.co/xH62s7Uo47
Last Congress I cosponsored a resolution expressing that there is a climate emergency, and that we address and reverse its causes and consequences. I am hopeful @JoeBiden will join us to declare a climate emergency. The costs of inaction are far higher than the costs of action.
I dunno, if you're a politician that thinks ending discrimination is "divisive," you might not want to publicly advertise that https://t.co/Ot5cp6mqTy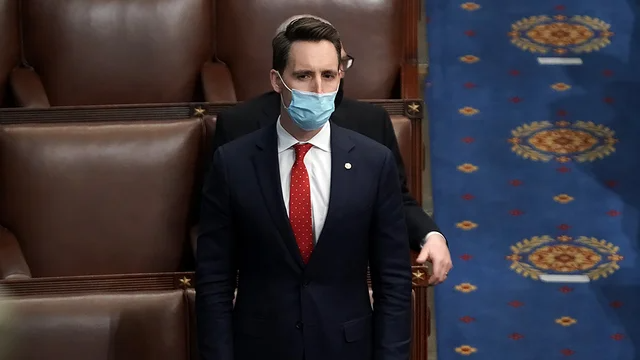 I know you're not used to these, but they're called consequences, Josh. And you're handling them very poorly. Resign. https://t.co/hgMzMRIpwm
Just so folks are clear, as a former immigration & social justice attorney, I watched firsthand under President Obama, and later Trump, that @ICEgov acts as a rogue agency that disregards the law and human rights. #AbolishICE once and for all. https://t.co/hinfPbbo19
You were given prime space to say this in a billionaire-run rag that specifically amplifies right-wing views, part of a entire subsidized industry of right-wing outlets. You're not "muzzled," Hawley. You're just deeply unpopular, and aided insurrection. And you need to resign. https://t.co/VjNucSfhrT
Quoted @tedcruz
All jokes aside, @Sethrogen is a moron. It's your party that believes in govt power: to shut your business, to oppress your faith & to censor your speech. Anyone who disagrees, they try to cancel. BTW, a lot of folks in Hollywood are conservative—& muzzled by the fascist Left. https://t.co/i9o80vFtS0
Don't let him off the hook. Don't let him make this about "Hollywood" — this is about Ted Cruz aiding and abetting an insurrection that killed 5 people including a cop and very nearly ended in the murders of members of Congress and the Vice President. https://t.co/ZAsy2tDn3E
Let's be clear: banking policy is a racial justice issue and no one knows that better than @mehrsabaradaran. From strengthening the Community Reinvestment Act to advancing robust consumer protection, Mehrsa would lead the OCC powerfully & with intention.
No, no and no. These people committed crimes and should be charged. I was peacefully protesting Trump's horrific policy of separating parents from their children with 600 other women, and we were ALL arrested—simply for sitting there & refusing to leave. https://t.co/TTKyiVAKn7
In 1994, Democrats in power lost big because they were not bold. In 2010, it happened again. If we do not take aggressive action NOW to protect working families, it will happen in 2022. https://t.co/f3atTJAlNx
Quoted @mkraju
Asked about how the rioters and rallygoers thought they could change the electoral results, pointing to his and other Republican objections, Hawley claimed: "I was very clear from the beginning that I was never attempting to overturn the election."
This is a lie. Jan 4 BAIER: Are you trying to say that, as of January 20, that President Trump will be president? HAWLEY: That depends on what happens on Wednesday. I mean, this is why we have the debate. https://t.co/6dK9zH4k8l