We looked inside some of the tweets by @4everNeverTrump and here's what we found interesting.
Inside 100 Tweets
Time between tweets:
18 minutes
Tweets with photos
11 / 100
Tweets with videos
0 / 100
Quoted @SamSeder
@4everNeverTrump Do some googling- find out what was happening with polanski in 09 - i accept your apology in advance.
Do some googling- find out "joking" about rape wasn't funny in 09 and isn't funny now - i accept your apology in advance. https://t.co/hfbOvyrHXk
Quoted @SamSeder
This guy works in the movie business so its even more reprehensible that he took Mike Cernovich's cue to attack me for slamming rapist apologists back in 2009. Maybe he signed that pro polanski petition? @notcapnamerica https://t.co/F9v6vWR3Yf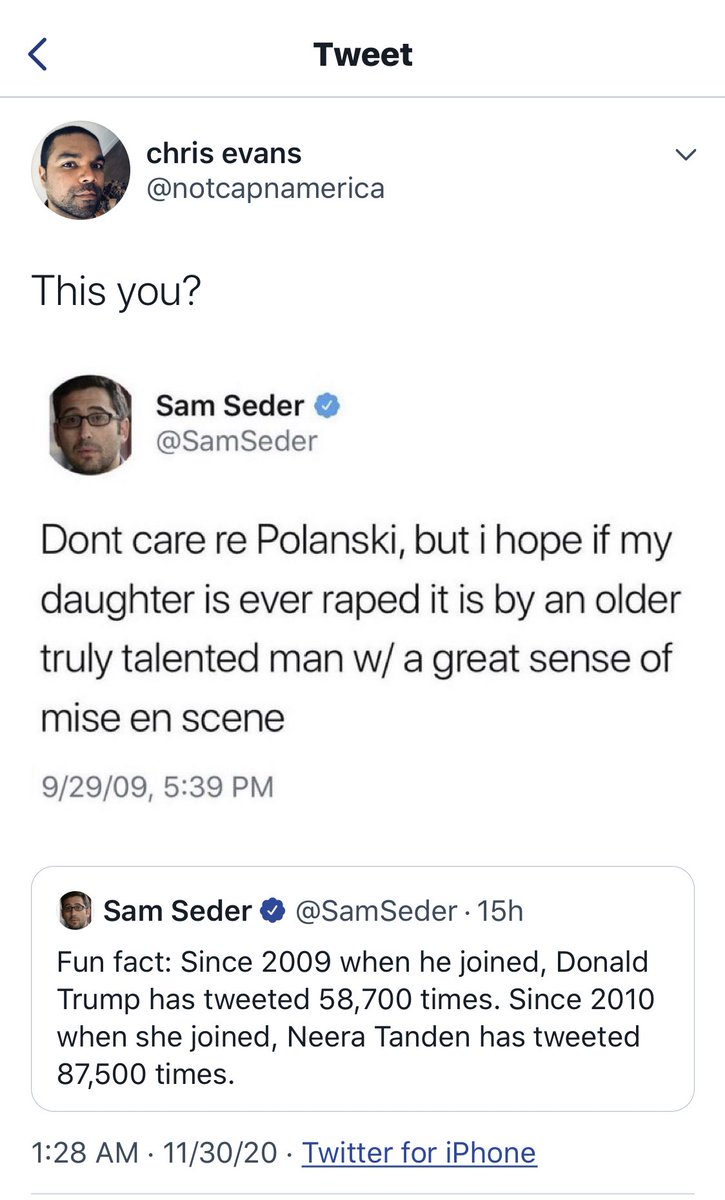 there is zero indication you were "slamming rapist apologists" in that 2009 tweet, dude. you made a really bad reprehensible joke... and now you're doubling down on it. https://t.co/TctTtVN5l1

Of all the dumb claims in dumb threads like these, there's always some point at which the dumbass discovers that Democrats win high-population urban counties by big margins but chalks it up to "statistical abnormalities" rather than "Philadelphia reported its votes". https://t.co/xYrZou1NA8
If you could find one Fortune 500 CEO who could succinctly describe critical race theory, I'll be shocked. https://t.co/ZBbSb18ksQ
Quoted @HawleyMO
Let me explain this to you. Corporate liberals are woke capitalists. The corporatists love critical race theory and all the other warmed-over Marxist garbage. They sell out working Americans and sneer at them at the same time. That's the New Left https://t.co/pOrG5NdXsq
"Corporatism" isn't shorthand for "corporate liberalism/leftism"; corporatism is an old political theory that doesn't fit into modern-day left/right labeling. Critical race theory isn't Marxist (warmed-over or otherwise). But other than that, spot on. https://t.co/Ga5D02c2Fi
Quoted @kyledcheney
Remarkably sweeping language for the pardon. It absolves Flynn of lying to the FBI and also: "any and all possible offenses arising from the facts set forth ... or that might arise, or be charged, claimed or asserted" baed on the Mueller investigation or any grand juries.
Whether the president's pardon power extends to crimes that have not yet been charged—let alone investigated—has never been tested in court. Regardless, Flynn just lost 5th Amendment protections for everything he's been involved in over the past 5+ years. https://t.co/NKMZTsOXso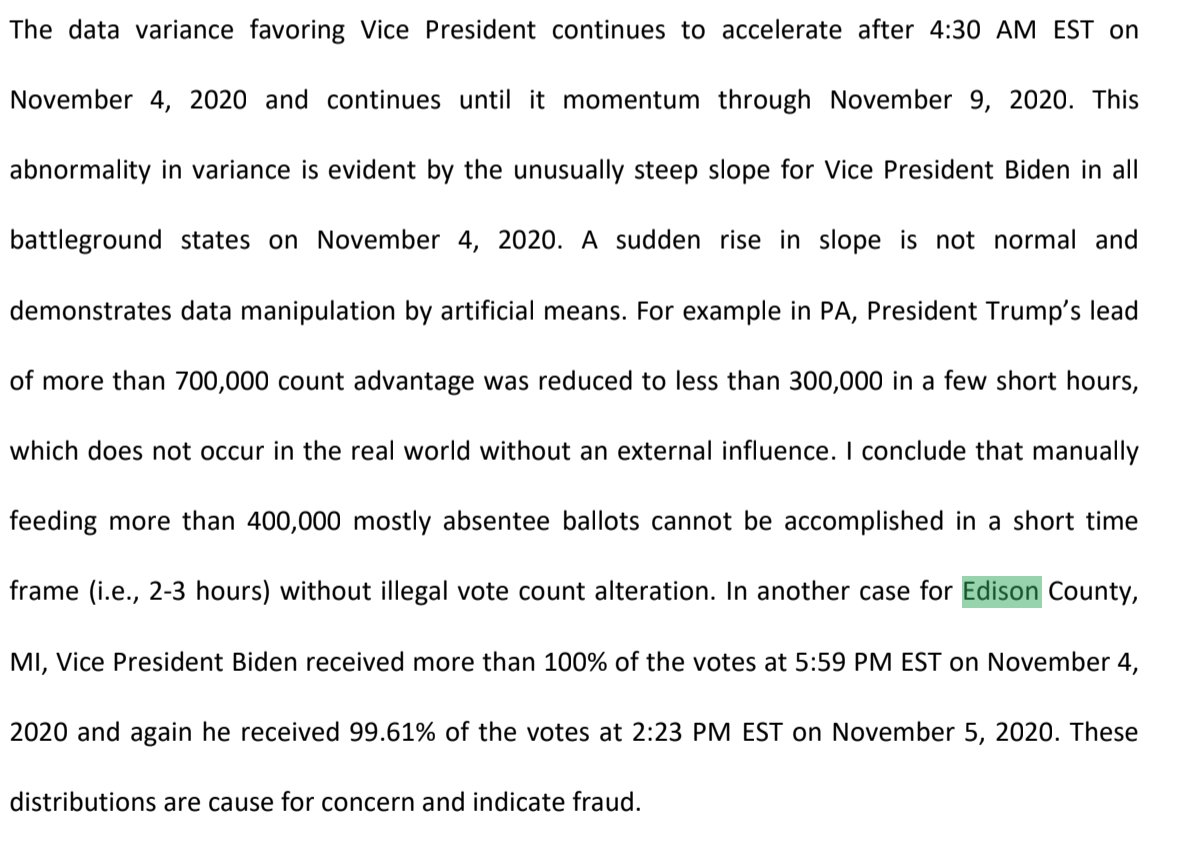 One of the witnesses in Sidney Powell's new Michigan lawsuit says in a declaration he thinks there's something fishy about election returns in Edison County, MI. Thing is, there is no Edison County in Michigan. https://t.co/yZfDWMAFSP
Quoted @benjaminwittes
Ok, color me confused. President Trump pardoned Michael Flynn on November 25. According to the Flynn docket, there is still no motion to dismiss the case based on the pardon. I know it's a holiday weekend. And I'm certainly no expert on pardons, But I'm pretty sure that: https://t.co/7OyAOq9Bx6
Has anybody actually seen the pardon document or is it just a tweet? https://t.co/cy1g4zoevg
Quoted @JennaEllisEsq
The certification of Arizona's FALSE results is unethical and knowingly participating in the corruption that has disenfranchised AZ voters. BUT, this in no way impacts the state legislature's ability to take back the proper selection of delegates.
She's, for once, not completely lying here. The certification does not impact the legislature's ability to select another slate of delegates because the legislature never had that ability to begin with. https://t.co/bwGB8ZEroW
Really says something about @DukeMedSchool's standards that a cruel immoral liar like Rand Paul graduated from the school.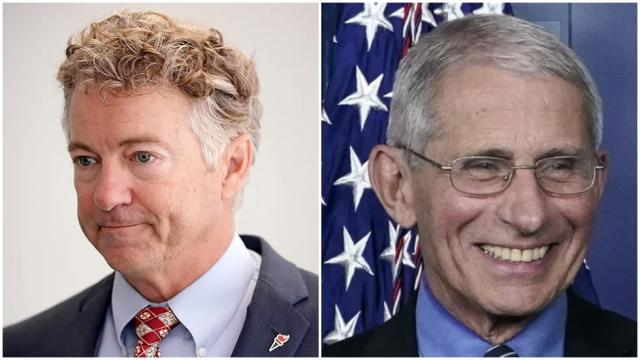 Rand Paul was unable to maintain his medical certification through the nationally-recognized ophthalmologist organization... and started a whole new organization, of which he was the only member, with less-stringent requirements to maintain his medical license. https://t.co/HMs2s5MqIF
Quoted @kyledcheney
As Giuliani testifies to Arizona GOP legislators about unfounded claims of fraud, the state government certified Biden's victory. Giuliani is asking the GOP lawmakers to step in and override the certification.
For those in the back: State legislatures can't override the will of the voters after Election Day. Thinking that they can displays a profound ignorance of the Constitution and basic US election law. https://t.co/SumROJkt8e
Quoted @LLinWood
I choose not to vote in another fraudulent election with rigged voting machines & fake mail ballots. The future of this nation will not be be determined by fraudulent elections. This is not about an election. This is a color revolution to overthrow our government. Face TRUTH. https://t.co/uhQAyKvesx
The negative reference to a "color revolution" is especially telling here. Color revolutions challenged/overthrew authoritarian governments in favor of democracy (didn't always work out, of course). @LLinWood apparently believes a color revolution is a *bad* thing. https://t.co/oVqhwLFX78